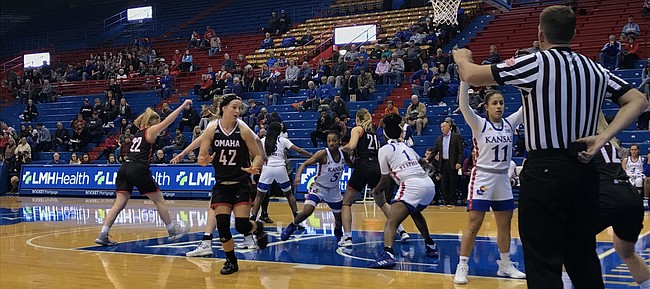 After a 10-0 start to the 2019-20 season, the Kansas women's basketball team is on the Associated Press Top 25 radar.
For the second week in a row, KU coach Brandon Schneider's team received votes for a spot in the Top 25, with the Jayhawks earning a single vote a week ago and grabbing four votes in this week's poll.
KU, which won at Saint Louis over the weekend, will close out its nonconference schedule on Dec. 30 with a home game against Wofford.
The Jayhawks will open Big 12 play on Jan. 4 at Oklahoma State and their focus between now and then will remain on improving as a team and growing together, not where they sit in the Big 12 standings or national rankings.
"We're not even looking at that," Schneider told the Journal-World. "I mean, I've said over and over, going back to media day, that when you're this young, every practice, every exhibition game, every nonconference game is a chance to just advance the culture and advance your identity towards what you think you can become."
KU and Texas Tech, both at 10-0, are the only unbeaten teams in Big 12 women's basketball to date.
Baylor (6th), West Virginia (19th) and Texas (25th) are all ranked ahead of KU, with TCU and Texas Tech also receiving votes in this week's poll.
It's still way early, but ESPN.com's women's basketball bracketologist Charlie Creme currently has KU as one of six Big 12 teams in the 2020 NCAA Tournament.
Creme currently has the Jayhawks penciled in as a No. 11 seed.