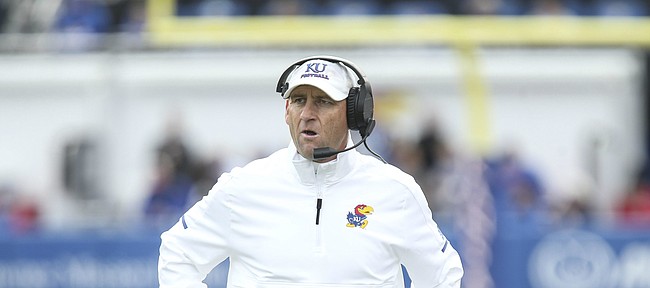 Lawyers for former University of Kansas head football coach David Beaty filed on Friday a partial motion for summary judgment on their breach of contract claim in U.S. District Court for the district of Kansas.
Fired by KU in November of 2018, Beaty filed a lawsuit this past March alleging Kansas Athletics owed him $3 million for firing him without cause, per the contract extension he signed in 2016.
"It is beyond dispute that (Kansas Athletics) terminated the agreements without cause," Beaty's lawyers continue to argue in the latest filing, which asks the court to grant summary judgment on the matter.
A memo in support of the latest filing presents aspects of Beaty's contract extension, with his law team proclaiming that Kansas Athletics "unilaterally breached its contractual obligations" by not following through on the payments he would receive if fired without cause, as detailed in the extension.
The memo states Kansas Athletics breached the contract by terminating Beaty without cause and "confirmed it in person, in writing and publicly."
When the lawsuit was filed, a spokesperson for Kansas Athletics pointed to a potential NCAA rules violation that occurred under Beaty's watch as the reason for the delay in payments.
This past September, the Notice of Allegations KU received from the NCAA included details of alleged misconduct involving a video coordinator acting in a coaching role.
The latest memo filed notes Beaty received a letter from KU's general counsel regarding an alleged violation in December of 2018, over a month after KU fired Beaty.
It also states Kansas Athletics sent a letter to Beaty nearly a year after his firing, purporting to terminate Beaty for cause. That letter from KU Athletics Director Jeff Long to Beaty, the memo presents, informed the former head coach Kansas Athletics had completed its investigation, in parallel with the NCAA's investigation, and found the allegations to be true.
Beaty's law team presented in its supporting memo that Kansas Athletics "did not bargain for any conditions" on without cause payments in the contract extension.