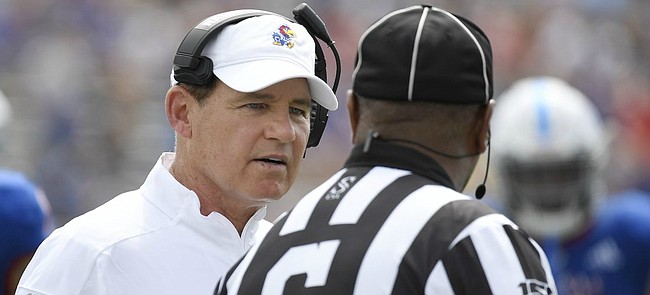 Carter Stanley was not perfect during Saturday's 24-17 KU victory over Indiana State. But the decision to use him was.
And, no, I'm not just talking about Les Miles picking Stanley as the winner of a seven-month quarterback battle with newcomer Thomas MacVittie. I'm talking about Miles picking Stanley as the winner and then sticking with him for four full quarters.
Decisions like those win games. And even though Saturday's victory had its share of warts, how Miles and company handled the quarterback position was not one of them.
It's still far too early to know whether Miles' time at Kansas will wind up successful. But it's never too early to see concrete evidence that the head football coach knows what he's doing. Kansas fans saw that on Saturday. And boy was it refreshing.
"It's definitely important," said senior running back Khalil Herbert of Miles picking a QB and sticking with him. "It puts the whole offense behind him. They stuck with him today and it worked out well."
Despite keeping the identity of his starting QB a secret and even hinting that he might play multiple quarterbacks in the opener, Miles went with Stanley to start, stuck with him through three turnovers and then watched him rally the Jayhawks to victory with a clutch two-minute drive in the final five minutes that turned a 17-16 deficit into a 24-17 victory.
"That commitment means a lot to me," said Stanley, who finished 20-of-29 passing for 241 yards and two touchdowns, including the game winner to Daylon Charlot. "I'm very thankful for that and I think I have to continue to do some things to prove to them that I can handle those situations."
Stanley was at his absolute best on that last drive, putting a few great throws out there and letting his talented receivers make plays from there.
"We didn't blink," senior tight end James Sosinski said of his team facing a 1-point deficit late. "We just went out there with confidence and we knew that (Number) 9 was going to lead us down there."
Who knows if Stanley will hold onto this job for all 12 games of the 2019 season. But if he does, maybe that last drive provided a glimpse of something that could work with him under center.
Instead of asking him to manage the game and stick to a script, let him run around, inject some life into the offense — and audience — and see if those plays that saved KU in this one can become a regular thing.
The Jayhawks, who played Saturday's game without all-Big 12 running back Pooka Williams, have to and will run the ball a lot this season. But their quarterback has to be able to make plays, as well, so other teams can't load up against the run.
Stanley did that on Saturday when it mattered most, and that performance came on an afternoon when he faced a steady diet of pressure right in his face and had to overcome a couple of incorrect calls from the sideline.
Miles said cleaning up the miscommunication that cost them Saturday would be "easy to fix." He also said Stanley was his quarterback moving forward.
"You betcha," Miles said. "Was he perfect? Absolutely not. But he was good enough and (enough of a) leader to win. … I think he's a team guy. He wants for the team. Those thoughts, they carry you a long way."
On Saturday, those thoughts, along with his actions, carried Kansas to victory and made the Jayhawks 1-0, leading to both smiles and sighs of relief on the faces of everyone from the casual fan all the way up to the athletic director.
KU football is in no position to decide whether its wins need to be pretty. You take them. However they come. And for just the seventh time since Stanley became a Jayhawk back in 2015, the gritty senior from Vero Beach, Fla., walked off the field Saturday on the winning side of a coin that has seemed double-sided against the Jayhawks for far too long.
Stanley made a few throws that led to that outcome. But Miles made sure he was in position to do so.
Let's see what else the two can do from here.