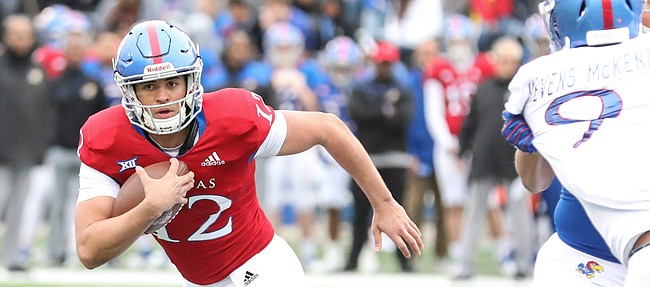 Kansas freshman quarterback Torry Locklin has been unique since the first time he threw a football.
When Locklin was 11 years old, the coaching staff called a trick play just before the half. Locklin, who was a running back at the time, took a direct snap from the Wildcat formation and proceeded to unleash a left-handed pass.
Shortly after the play, the team headed into the locker room where Locklin received a prophecy from his father.
"My dad said, 'Hey, you are going to be a quarterback,'" Locklin recalled.
Kerry Locklin should know, as he had a quarterback background before eventually playing tight end for the Los Angeles Rams and Denver Broncos of the NFL.
Ever since his first throw, Torry Locklin has been attempting to become a better quarterback. He's soaked up as much information from plenty of prominent voices, even if they didn't always know how to properly teach the southpaw signal caller.
"A lot of people had struggles trying to coach me, because it was hard for them to try and teach me how to do things as a lefty," Locklin said. "They were trying to coach it right-handed, and I was always trying to do it left-handed. In the beginning it was hard, but as I grew, it became easier."
But perhaps the most important year for Locklin — at least from growth standpoint — was his grayshirt season in 2018.
Locklin announced his intentions to play at Kansas back in February of 2018 after leading Rockdale High School to a state title in Class 3A in Texas, which was the program's first crown since Kerry Locklin spearheaded a championship run in 1976. But Torry Locklin was ultimately asked by KU's previous coaching staff to wait a year before enrolling.
It meant that Locklin had to take classes elsewhere last fall, while also finding ways to improve his game away from Lawrence. It was a process that his brother, Tymon Locklin, went through at New Mexico State just five years ago.
"Being able to see what he went through, I feel like he just showed me it is a better opportunity for me," Torry Locklin said. "To learn and grow."
Locklin often worked out back home in New Mexico, though he also spent a brief time in Canada.
Kerry Locklin coaches the defensive line for the Toronto Argonauts of the CFL, so Torry took the opportunity to spend two weeks up there last September. After practices, Locklin would throw to members of the Argonauts. Locklin even spent some time in the quarterback meetings, which included former Missouri quarterback James Franklin.
"Those guys up there in the CFL, they have been down here in the NFL and big-time colleges," Locklin said. "I'm just trying to get a piece of everything from them. I just am trying to soak up as much as I could."
Locklin returned to Lawrence in January, even though that wasn't always a guarantee. When the new coaching staff took over, Locklin wasn't certain he'd still be a member of the 2019 class until he spoke with head coach Les Miles.
"You are kind of on the edge with a coaching change," Locklin said. "When they evaluated the film and everything, they felt like I could be a part of this team. I just felt at ease."
Since stepping on campus, Locklin has managed to turn the heads of his teammates and even the coaching staff. The dual-threat quarterback has a knack for extending plays and making things happen with his legs, which was evident by his 38-yard score in KU's spring game this past April.
It remains to be seen if Locklin can earn playing time this fall, as both Thomas MacVittie and Carter Stanley are the two frontrunners in KU's starting quarterback competition. But it is clear that Locklin is a part of the Jayhawks' plan down the road.
So what can Kansas fans expect when he finally does step on the field for the Jayhawks?
"Be ready for a show," Locklin said.