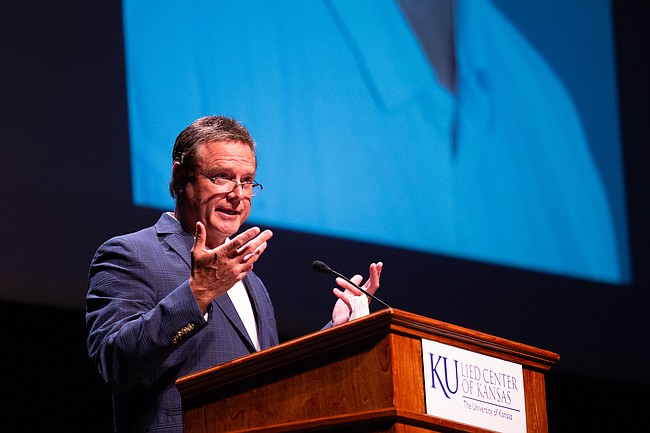 For a little more than an hour on Saturday afternoon, 1,000 friends, family members, admirers and KU fans packed the Lied Center to celebrate the life and legacy of late Kansas broadcaster Max Falkenstien.
One of them, Sandra Simonett, came from California to pay her respects. And Simonett, better than any of the seven speakers or anyone else in attendance, was uniquely qualified to express what Falkenstien himself might have thought of Saturday's celebration.
"He would've just loved this," she said, explaining that she was Falkenstien's younger sister. "His remark would've been, 'Oh, I wish I'd been there.'"
In many ways, he was.
From the playing of a video interview with longtime broadcast partner Bob Davis as folks filed in, to Davis' opening and closing remarks and heartfelt tributes from featured speakers Kate Falkenstien, Larry Hatfield, Don Green, Jim Marchiony, Ray Bechard and Bill Self, the afternoon was full of life, love and laughter.
And while Simonett knew her older brother, whom she called, "just a wonderful big brother," would have loved every second of the event, it was words printed on the front of the program and shared by Self and Bechard that all but guaranteed that the celebration would have been to Falkenstien's liking.
Self shared a story of his final text exchange with Falkenstien to illustrate the point.
"I was texting with him," began Self, trying to keep from choking up. "And I told him, 'Max, I certainly hope that you understand the impact you had on so many and how much joy you have brought to peoples' lives. If there's anything that I can do for you — because I guarantee as long as I'm at KU, your legacy will never wain — just let me know.' And he said, 'Remember me with smiles.'"
"I think that sums up Max as well as anybody," Self said. "I believe that he was one of the most unselfish givers there were, with his time, with his thoughts, with his smiles and I know that we'll all miss him, but I promise you he'll never be forgotten."
Said Simonett of Self's comments: "I was so glad Bill Self got up there because Max just loved Bill."
Included in the crowd, among dozens of notable KU dignitaries past and present, was former Kansas State football coach Bill Snyder, sitting alone halfway back from the stage after rearranging his schedule to be able to be there.
Davis acknowledged Snyder's presence and said his old friend would have been tickled to see Snyder in his seat.
In between the emotional moments and warm memories were laughs. Lots and lots of laughs.
His granddaughter, Kate Falkenstien, shared a bit about her "papa's" life beyond KU, noting his love of animals and nature, his skills as a flautist and his appreciation for corny jokes.
She capped her time on stage with Falkenstien's famed "Penguin Joke," which told the tale of a man who inherited a waddle of penguins being told by a neighbor to take them to the zoo.
He did, and when the neighbor later asked why they were back with baseball caps on, the man replied, "I did and they had so much fun that today we went to a baseball game."
"I'm so grateful you are all here, so grateful that he lived such a long and full life and that we all got to play a part in it," Kate Falkenstien said. "He will be very deeply missed."
Next up, representing his "Handball Buddies," were Larry Hatfield and Don Green, who spoke of countless games of handball and lunches that followed with their dear friend.
While Falkenstien's competitive nature, intensity on the court even while playing for just one or two dollars and many stories after the action ended were present throughout their remarks, Hatfield joked that Falkenstien's proudest handball moment was when he beat legendary Kansas running back Gale Sayers, 21-0, by serving only to his left hand.
"Our group always looked out for each other and we miss Max greatly," Hatfield said. "But we do have enough Max stories to last forever."
Added Green: "I know that all of our group strongly feel that our group was more special because we had Max there because of the kind of person he was. We were better with him there and we're going to feel much diminished now that we have lost him."
Marchiony, the recently retired KU administrator who spent years riding in cars with Falkenstien at various KU events and was part of a select group that helped get Falkenstien back and forth to dialysis during the last years of his life, spoke most about their many memorable car rides.
One, in Maui, was taken despite the map the rental car company provided circling the road in red and expressing that anyone who takes that road voids the insurance on their vehicle.
"I didn't see that, Jimmy Boy," Marchiony recalled as Falkenstien's excuse that day.
Another time, on a drive home on I-70 from a Border War game between KU and Missouri at Arrowhead Stadium, the duo was stopped by a police officer making random checks in search of drunk drivers. Before letting them go, the officer leaned into the car and said, "Hey, aren't you Max Falkenstien."
Marchiony's thoughts instantly went to, "What am I? Chopped liver?"
"Well, yeah," Marchiony said. "Next to him we are all chopped liver. I cherished every moment I spent with him. Every road trip, every chat in the Allen Fieldhouse media room, every lunch over the years and, yes, I cherished every car ride. He was a gift."
Bechard, a native and lifelong Kansan, like Falkenstien, told a story of muting the television broadcast to listen to Falkenstien on the radio when he was growing up.
"Raise your hand if you ever did that," Bechard requested.
Hands flew up from all corners of the room.
"There you go," he said.
Like Self, Bechard received a similar request for smiles from Falkenstien during their final text exchange a few weeks ago.
"How fitting that this legendary Jayhawk we celebrate today, who had a smile for everyone he met, would want us to smile as we remember him," Bechard said. "Yes, Max. I'll remember you with a smile. We all will."