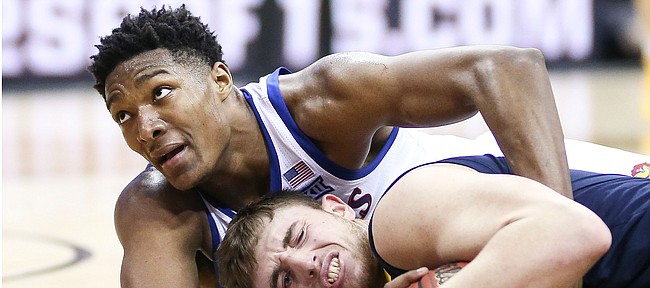 Few moments are more valuable to the Kansas basketball program than the early days of summer when returning sophomores offer help to incoming freshman trying to figure things out for the first time.
With as many as six freshmen slated to join the Kansas basketball roster this season, the Jayhawks again will be introducing some new faces to their fan base.
And while many of those names are already familiar to most die-hard KU fans, their true experiences have yet to begin.
That's not to say Christian Braun, Issac McBride, Jalen Wilson, Tristan Enaruna and Michael Jankovich have not been working hard during summer conditioning and pickup games at all hours of the day. But most of the work done this summer was done to lay the foundation for what's to come.
KU sophomore David McCormack remembers feeling more comfortable with each passing day of the summer a year ago.
But none of what he experienced then could prepare the former four-star prospect for what he encountered from September through March, when he played five minutes or fewer 10 times during the 2018-19 season but also finished the year by starting the final 13 games of a 26-10 season.
"Coming in young and facing adversity like (that), I don't think many freshmen had to embark on a journey like ours," recalled McCormack while looking back at Year 1.
While the ups and downs, new experiences and lumps that came with the ride made for a memorable season in a number of ways, McCormack said he and his young teammates learned from all of it and should be better for it during the 2019-20 season.
That was particularly true of his role as a starter down the stretch.
"It was a great feeling," he admitted. "You hold more responsibility, you hold more weight and because of that you're looked up to more. I enjoy that feeling."
No matter what McCormack's role was on any given night, he tried to treat every game, and all of his duties, the same each time out.
His personality and demeanor are well-suited to that approach and he learned long ago how to control his emotions and put them into his performance.
"Playing with pride, playing with heart, just doing whatever you can in your own capabilities to help your team however you can," said McCormack when asked to list the areas he focused on most during his freshman season. "I take the things I need to take away from each game and that always makes me want to get better — win, loss, it doesn't matter."
That mindset served McCormack well this summer, too.
In June, KU coach Bill Self called McCormack the most improved player on the roster. And his lead-by-example tenacity, especially while facing sizable challenges named Udoka Azubuike, Silvio De Sousa and Mitch Lightfoot, proved beneficial to the newcomers who were watching.
But it was not the fact that McCormack had it all figured out that was most valuable. It was the fact that he was still working as hard as ever to keep improving that showed his true character.
"I just want to improve my game in all aspects and help the team however I can," he said in June. "I think it's just a full development, strengthening my strengths and strengthening my weaknesses as well."
"I wouldn't say I'm in perfect shape," he added. "I think I still have a ways to go, but I definitely have moved in the manner that I wanted to."
Because of that, along with similar attitudes from his returning teammates and the growth of the newcomer, McCormack has high hopes for Round 2.
"This year is definitely going to be a great year," he said. "I have a lot of faith and a lot of expectations in this team and I know we're going to hold up to them."