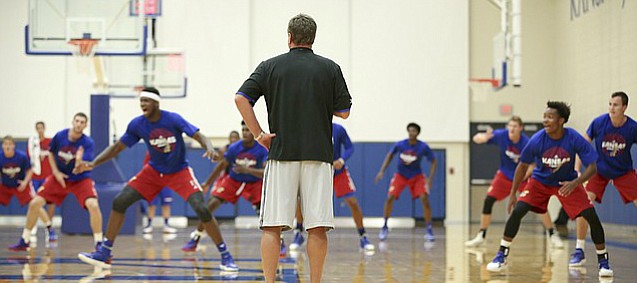 The process to replace two longtime Kansas Athletics sports performance employees is underway and KU Athletic Director Jeff Long hopes to have at least one hire made in the next two weeks.
Former Kansas basketball strength coach Andrea Hudy and former KU football trainer Murphy Grant, who served recently as KU's Associate Athletic Director for sports medicine, both started new jobs this week at Texas and Wake Forest, respectively.
Their departures left the Kansas athletic department with vacancies in key positions and also opened the door for the first significant hirings under the new Kansas Team Health model.
First launched in May, the Kansas Team Health partnership between KU, LMH Health and The University of Kansas Health System employees roughly 40 former members of the KU athletic department in the area of sports performance who now report to medical professionals.
Hiring within the new model introduces a few new steps, but Long said the process of finding candidates has not changed.
"Coach Self is identifying prospects, Kansas Athletics is identifying prospects and then we'll do as we always do, vet candidates, and then we'll have a recommendation," Long told the Journal-World on Wednesday. "We'll recommend that they hire this person and they'll hire this person."
Long classified the communication between KU and Kansas Team Health as a "collaborative conversation" and said KTH would play a supporting role in the hirings, checking resumes and backgrounds of potential candidates as names surface.
Asked if he thought he could have done more to retain Hudy, Long said, "It wasn't that kind of a situation. She was letting us know she was accepting the position (at Texas)."
Long said KU basketball coach Bill Self has taken the lead role in the search to replace Hudy.
"We are getting lots of people interested in the position," he said. "They're calling me, they're calling Coach Self, they're calling the other strength and conditioning coaches on our staff. So, as you would expect, there is lots of interest in this position already, and that's from college, that's from NBA, that's from many different areas. This is a coveted job. To work with Bill Self and to work with one of the top one, two, three basketball programs in the country; it's a prime job."
While Long, Self and others are fielding calls from interested parties, Kansas Team Health is fulfilling its role simultaneously, checking credentials, training history and references to expedite the process.
"It's happening as we build the pool," Long said of the vetting done by Kansas Team Health. "It is really a fluid process."
Long also said current KU strength and conditioning staff members would play a role in finding a replacement for Hudy when candidates were brought in for on-campus interviews.
"Because it's the University of Kansas and Kansas Athletics, we'll have a quality pool of people that want to be part of this," Long said. "It is the model of the future and people are going to want to know, 'How does Kansas do it?'"
Given the relatively new nature of the Kansas Team Health model, it's possible that the uncertainty about its structure could prove to be an obstacle in KU's search.
"It absolutely could," Long said. "You fear the unknown, right? But I think those that are really students of their profession, they won't have those questions. I think they see this coming and, for many, I think it'll be, 'Hey, this is a great opportunity to get in this new model.'"
Employees of Kansas Team Health are paid by Kansas Team Health, which functions as a third-party organization that provides a service to KU for a fee.
Long said contracts within the model are rare but do exist and were addressed on a case by case basis.
"Obviously, we want to move quickly, just because we're beginning the academic year, so it won't be a long, drawn out process," Long said before offering a reaction to the recent departures which came roughly three weeks apart.
"Things change," he said. "People get opportunities and in the big picture, in this profession, you expect people to move. I wish we still had Coach Hudy, I wish we had Murphy because they're valuable team members. Nobody should paint this as a picture of us not wanting either of them here."
When reached this week by the Journal-World, Hudy, who started her new job with the Longhorns on Monday, referred back to her initial statement about her departure.
"I have had the most amazing experience during my time as a Jayhawk," she said in a statement last week. "And (I) will always be grateful for the people I had the opportunity to work alongside."