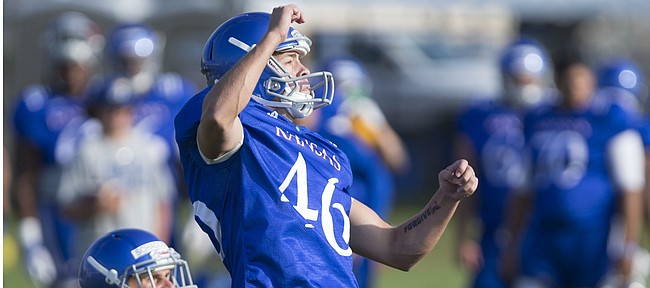 The starting quarterback battle isn't the only competition up in the air for the Kansas football team.
With less than two week until the season opener, the Jayhawks have yet to settle on a starting kicker. Similar to the signal caller competition, the battle to be KU's kicker is between two players.
Junior Liam Jones and freshman Jacob Borcila are both vying for the opportunity to make an impact on special teams. As of right now, though, the two players have done little to separate themselves.
"Right now, they are dead even," special teams coordinator Mike Ekeler said.
The competition is so tight that Jones and Borcila have been given equal reps throughout preseason camp.
During KU's media day, head coach Les Miles joked that he might be willing to wait until after the first game to name a starting quarterback. It appears that the kicker battle could have a similar timeline.
"Oh yeah. It is the first game," Ekeler said of when they have to make a decision.
But one of the biggest reasons for that timeline is that the Jayhawks could end up using both players in some capacity this season.
"You really look at it, too, we need a kickoff guy and we need a field goal/PAT guy," Ekeler said. "There are different roles within those two aspects of the kicking game."
Jones has some experience in both areas of the kicking game at the collegiate level. Last season, Jones kicked off a total of 49 times for 2,809 yards and 20 touchbacks. He was also 2-for-2 on PATs. As a freshman, Jones played in all 12 games for Kansas. He kicked off a total of 48 times, totaling 2,828 yards and 17 touchbacks.
"He's got an extremely strong leg," Ekeler said. "He's gaining a lot of confidence. His technique, he's trusting himself. He's not trying to overcorrect. He's really coming along."
Borcila, meanwhile, is a freshman from Westerville, Ohio where he earned accolades as a soccer player and football player. According to his MaxPreps page, Borcila was 13-for-24 on field goal attempts in his high school career. He made 67-of-68 PATs, while accumulating 5,377 yards on kickoffs.
"Jacob is extremely mature. He's very focused. He's a 4.0 student, he's extremely intelligent," Ekeler said. "He's got a phenomenal leg. He's got a soccer background. He's very, very athletic. Again, he's got an extremely bright future here."
While it might take all remaining 13 days to settle on the guy, it is clear that winner will be better off for competing in such a tightly-contested battle during camp.
"It's been going great," Ekeler said. "Those guys have all done a phenomenal job. They are going against each other (on a daily basis), which is making both of them better."