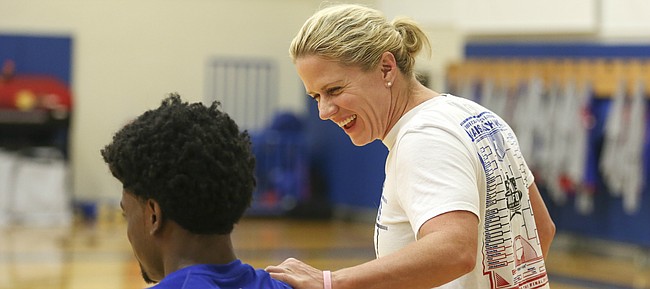 Longtime Kansas basketball strength and conditioning coach Andrea Hudy is leaving KU for a job at Texas, both Hudy and Kansas coach Bill Self confirmed to the Journal-World late Thursday night.
In a text message to the Journal-World, Hudy said she planned to leave Lawrence sometime Friday, closing the book on a 15-year career at Kansas.
Viewed both by those in the program and the adoring KU fan base as a critical part of the Jayhawks' success during the past 15 years, Hudy, after nine years as the men's and women's basketball strength coach at UConn, was hired by former KU athletic director Lew Perkins in 2004.
She spent her time helping build and shape the Kansas basketball roster with everything from old-school hard work in the weight room to cutting edge technology that made her a leader in the industry and one of the most respected people in her profession nationwide.
In 2013, Hudy was named the National College Strength and Conditioning Coach of the Year by the National Strength and Conditioning Association. A few years later, in 2017, she was awarded with the NSCA's Impact Award, given annually to someone who has contributed to the advancement of the industry.
"I've worked with her as an athlete, I've worked with her as my patient and I just have the utmost respect for her and I just love her to death," said former KU shooting guard Tyrel Reed upon learning about Hudy's departure. "She pushed us so hard to be as good as we could in the weight room and on the court, and I just always knew she was one of the best in the profession."
Reed, now a physical therapist at OrthoKansas, said Hudy not only helped him grow and perform as a basketball player but also played a role in helping him find his chosen career path.
"She played a huge part in me deciding what I wanted to do with my career as a physical therapist," Reed told the Journal-World. "She was just always someone I could bounce ideas off of or talk to about strength and conditioning and physical therapy and I was lucky to be around her. I think any time you lose somebody who's been so integral in all the success we've had, I think that's obviously a big deal and I wish her nothing but the best as she moves on."
No official announcement about her departure has come from either KU or Texas, but sources told the Journal-World that official word could come as soon as Friday.
News of Hudy's departure comes a few months after KU's athletic department restructured its health care plan for student-athletes by shifting to a new model that led to Hudy and roughly 40 other employees working for the newly formed Kansas Team Health, a joint venture that includes the KU athletic department, The University of Kansas Health System and LMH Health in Lawrence.
All of the former KU employees impacted by the change began reporting to medical professionals at KU Health System instead of athletic department officials.

Former longtime KU football trainer, Murphy Grant, another accomplished professional in the industry, recently left KU for a similar job at Wake Forest.
In a text message exchange with the Journal-World late Thursday night, Self said he did not yet know what direction he would go as he searches for a replacement for Hudy.