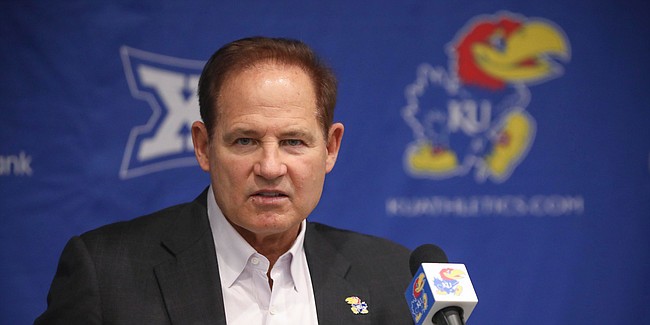 A specific series of events had to unfold for Les Miles to become the football coach at the University of Kansas. And if a program near to his heart had ever offered him the head coaching job, it's unlikely Miles ever would have ended up in Lawrence.
A former player and assistant at Michigan in his younger days, Miles recently told Angelique S. Chengelis, of The Detroit News, he would have loved to become the head coach at his alma mater, but was "sad" that he never had that opportunity.
"I love Michigan," Miles told Chengelis, on her podcast, "View from the Press Box," this past week. "It does break my heart. I love the place. There were things I was fortunate to accomplish that I only give credit to Michigan for the experiences I had that allowed me to do some of the things I did. (I'm thankful for) the time I was there and how much I enjoyed being around the Michigan players and Coach (Bo) Schembechler."
In the mid-1970s Miles played for the Wolverines' offensive line, under Schembechler. Miles would later break into the coaching profession as a graduate assistant at Michigan in 1980. He went on to return as a full-time assistant for his mentor in 1987, and remained on staff when Schembechler retired and Gary Moeller took over. Miles didn't leave Michigan for good until after the 1994 season, when he took an assistant coaching job at Oklahoma State.
Miles, while at LSU, was widely considered a candidate for the Michigan job whenever it became vacant, including in 2007, when Lloyd Carr retired.
However, Miles told Chengelis he doesn't know that he actually was "ever really close" to landing the job.
"I was fortunate to be at a decent place," Miles said, referencing LSU. "It didn't work out and I'm sad that it didn't."
LSU fired Miles four games into the 2016 season after he led the Tigers for 11-plus years, going 114-34 and guiding the program to a national championship.
He remained out of coaching throughout the 2017 and 2018 seasons before KU Athletic Director Jeff Long, who met Miles at Michigan, hired Miles to lead the Jayhawks.
Miles' Year 1 expectations at KU
The man known as "The Mad Hatter" has said in the months leading up to his first year at Kansas that he doesn't want to put a cap on what the Jayhawks can accomplish this coming fall.
Many football minds outside of Lawrence aren't expecting much success for KU this year, though, despite the presence of Miles.
In his piece for ESPN about forecasting what's in store for various coaches who were hired this past offseason, Bill Connelly pointed out that Miles could be on the way to writing a "redemption tale" for himself at KU, or the program may be in too dire a situation for even Miles to turn it around.
"He should be able to upgrade the infrastructure in Lawrence over the next few years, and he might be able to recruit to a more physical identity," Connelly wrote. "But in the short term, he inherits a roster that has basically one player sure to have made his two-deep at LSU: running back Pooka Williams. There's size on the offensive line and experience in the secondary, but in a Big 12 with an enormous middle class, the Jayhawks have so much ground to make up to hope for much more than a couple of cupcake wins and a conference upset in 2019."
Statistical projections from ESPN's Football Power Index and S&P;+ project KU winning three or fewer games. ESPN listed the Jayhawks' odds of becoming bowl eligible at 2%.
Miles still intriguing college football figure
Even if Miles' ability to win many games this year is in doubt, he enters his first fall at KU still considered one of the bigger names in the sport.
Yahoo's Pat Forde ranked Miles No. 11 on his list of the 25 most intriguing coaches.
"The 65-year-old Miles," Forde wrote, "who last coached in 2016 and last had a heavyweight team in 2011, at least has managed to do something nobody else has done in more than a decade: Make people pay at least temporary attention to Kansas football. We'll see whether Miles can sufficiently modernize his approach to get the Jayhawks out of the Big 12 basement."
KU opens its first season under Miles on Aug. 31 versus Indiana State.