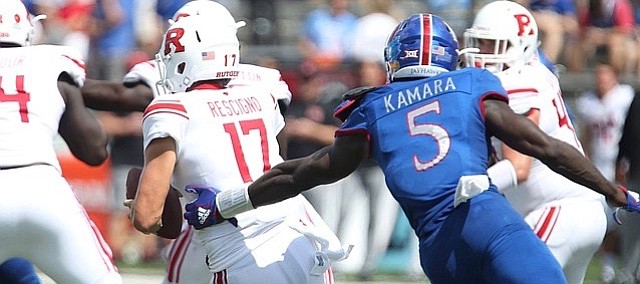 The only way to go is up.
At least that has to be the mindset of the Kansas defense in regards to putting pressure on the quarterback this fall. KU recorded 21 sacks in 2018, which was only better than Kansas State (18) in the Big 12 conference.
KU's average of 1.75 sacks per game was tied for 97th in the nation, a mark that this year's group wants to improve on.
"It's very important," junior linebacker Kyron Johnson said. "When you talk about pass rush, we need someone who is fast, strong and agile that can really get off the edge."
But that might be easier said than done.
After all, the Jayhawks lost their top three sack leaders from last year's squad that went 3-9. Johnson and senior defensive back Bryce Torneden, who were each credited with two sacks last fall, are actually the leading returners in that particular area.
Yet that hasn't deterred the Jayhawks, who believe they will disrupt opposing passers in 2019.
"There are a number of guys that can rush the passer," head coach Les Miles said. "The outside linebackers that we talked about earlier are some guys that can fly. Our defensive line will be fine there in terms of pressuring the passer."
It remains to be seen who will consistently get to the quarterback, but Miles believes he has multiple options.
Johnson has moved back to inside linebacker from the outside, but his speed will allow him to have some opportunities. Senior linebacker Azur Kamara recorded his only career sack against Texas Tech last year.
Senior Najee Stevens-McKenzie, senior Denzel Feaster, junior Dru Prox, freshman Steven Parker, freshman Gavin Potter all figure to be involved in a linebacker unit that Miles spoke highly of on Thursday.
"We fly around every practice," Kamara said of the linebackers. "That's what (Miles) wants us to do. We fly to the ball everyday (and) play hard."
Senior defensive end Codey Cole III is one of the leading candidates to apply pressure in the trenches. Senior Darrius Moragne could also provide an impact on the defensive line.
Miles is also willing to get creative in order to wreak havoc.
"We would expect we can put a quality pressure on all the teams we play in a bunch of different ways," Miles said. "If you can't get it with a four-man rush, then maybe you get it with a couple extra linebackers. Take a couple defensive linemen out, make it a four-man rush, but it is just a little different. More athletic group."
Miles certainly has a track record of getting after the quarterback. In 11 full seasons at LSU, which was between 2005-15, the Tigers averaged 32.7 sacks per season. LSU recorded as many as 39 sacks in 2006 and 2011. Only once did the Tigers finish with fewer than 27 sacks in a single campaign.
For comparison, Kansas has not recorded more than 27 sacks in a year since 2009. The Jayhawks have averaged just 19.5 sacks per season this decade. It is a trend that KU players believe will change as soon as this fall.
"You are just going to see a lot of strong, big, fast dudes coming off the edge a lot," Johnson said. "I can tell you that."