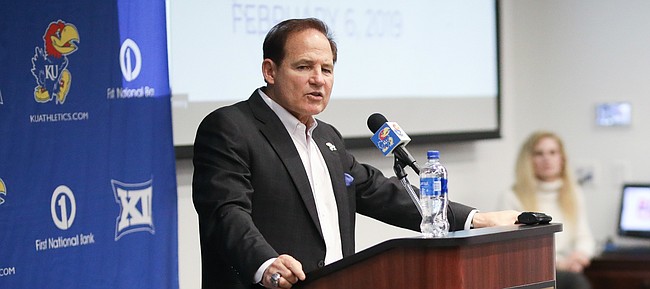 Even though the season opener is a little over three weeks away, Kansas football might have picked up one of its most significant wins of the year.
Brennon Scott, a four-star Dallas linebacker in the 2020 class, announced his verbal commitment to KU via his personal Twitter account Tuesday night. Scott chose the Jayhawks over Texas, USC, Auburn and Oregon. KU receivers coach and Dallas native Emmett Jones played a crucial role in swaying Scott over those programs.
Scott, who is listed by Rivals at 6-foot-2 and 233 pounds entering his senior year at Bishop Dunne, collected scholarship offers from more than 30 schools before ultimately choosing Kansas.
Because Scott's 0.8925 247Sports Composite ranking already puts him as KU's ninth-best recruit since 2000, it is not a hyperbole to say that he could be a program-changing player. At the very least, Scott could be adored by Kansas fans while anchoring a defense for four years in the 2020s.
The easy thing to do is to be skeptical of all of this, of course. After all, Scott's pledge to the Jayhawks is nonbinding. It means nothing until he signs on the dotted line, which will be December at the earliest. This past weekend, linebacker Kershawn Fisher backed out of his pledge after he declared himself "1000%" committed to Kansas earlier this summer.
In addition, KU's track record with top-tier recruits has been hit or miss, which is the name of the game in college football recruiting. Marquel Combs, Jocques Crawford, Pooka Williams Jr., Corione Harris, Brandon Duncan, Cory Kipp, Steven Parker and Traevohn Wrench all had a higher 247Sports Composite ranking than Scott when committing to Kansas.
Harris and Williams both had an immediate impact as freshmen last fall for the Jayhawks. Parker, who is also from Dallas, figures to have a prominent role on KU's defense in his rookie campaign this season.
As for the other five players, however, nobody seemed to live up to expectations. Combs and Wrench did not even play a snap for the Jayhawks. Crawford and Duncan both had minimal roles in their lone season at KU.
History aside, though, Scott could help fuel a turnaround for a program that hasn't won more than three games in a season since 2009. It easy to envision when you factor in that Scott will have both Harris and Parker with him on the defensive side of the ball as well.
The Dallas Morning News listed Scott as the 13th-best player in its coverage area for the Class of 2020. Wide receiver Lawrence Arnold, who committed to KU on Monday, is the No. 44 player on the same list.
"Scott is the best linebacker recruit in the area, and it isn't very close," recruiting analyst EJ Holland wrote in the Dallas Morning News. "An elite level recruit, Scott played a huge role for a Bishop Dunne defense that was lights out en route to the team's title run. Scott has the size and athleticism to play multiple linebacker spots in various schemes."
Last season, Scott recorded 88 tackles, 14 sacks and two forced fumbles. His team went 11-3 and won the Texas Association of Private and Parochial Schools Division I state championship. He's currently the 24th-best outside linebacker in the nation, according to Rivals.
Scott easily becomes the most-lauded prospect for KU in 2020, a class that now consists of 23 high school seniors. According to Rivals, Kansas now has the 26th-best recruiting class in the nation, trailing only Texas and Oklahoma among Big 12 teams. So it would be too easy to downplay the significance of one four-star commitment, especially this far out from National Signing Day.
But this is a big win for a program that has seen so few victories over the past decade. And perhaps it is even a sign of things to come.
2020 KU football recruiting class
Verbal commitments
• Brennon Scott - 4-star LB from Texas
• Duece Mayberry - 3-star CB from Oklahoma
• Jackson Stoefen - 3-star OL from Iowa
• Keenan Hambrick - 3-star WR from Alabama
• Trevor Kardell - 3-star TE from Missouri
• Will Huggins - 3-star TE from Kansas
• Krishawn Brown - 3-star LB from Oklahoma
• Khari Coleman - 3-star DE from Louisiana
• Garrett Jones - 3-star OL from Michigan
• Ja'Cobee Bryant - 3-star CB from Alabama
• Malik Johnson - 3-star WR from Texas
• Caleb Taylor - 3-star DE from Missouri
• Kenean Caldwell - 3-star DT from Louisiana
• Jaylin Richardson - 3-star athlete from Kansas
• Taiwan Berryhill - 3-star linebacker from Louisiana
• Lawrence Arnold - 3-star receiver from Texas
• DaVonshai Harden Jr. - 2-star QB from Kansas
• Luke Grimm - 2-star WR from Missouri
• Tommy Brandt - 2-star OL from Minnesota
• Juan Jarrett - 2-star LB from Ohio
• Nicholas Martinez - 2-star OL from California
• Kyler Pearson - 2-star WR from Oklahoma
• Daniel Hishaw Jr. - 2-star athlete from Oklahoma