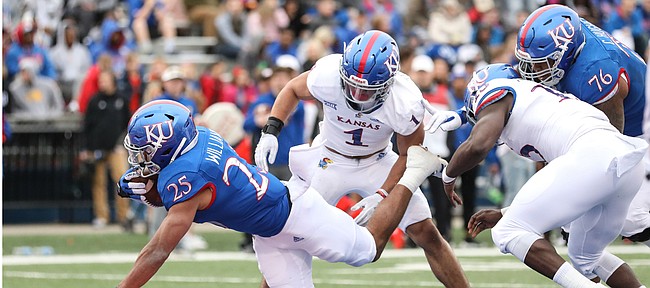 During the introductory years of his decades of college football experience, Les Miles played for and later worked for iconic Michigan head coach Bo Schembechler.
It was a different era for offensive schemes and strategies, predating innumerable modernizing adaptions that have emerged since.
While Miles' first team at the University of Kansas isn't expected to zig while everyone else is zagging and turn back the offensive clock 40 years, he hinted that some old school features could factor into the Jayhawks' approach this fall.
Even at KU, where the offense has failed to keep the team competitive for the better part of a decade, various offensive coordinators have at least attempted to spread the field, play their quarterbacks out of the shotgun formation and have adapted a no huddle approach.
Asked recently whether his KU team will huddle up on offense or put a QB under center, Miles indicated the Jayhawks, at least at times, will do both.
"Men in a huddle," Miles said, closing his eyes to act as if he was picturing it. "Oh, wow."
While the program's new leader has maintained relative secrecy regarding the offense, it's safe to assume the play calling from his coordinator, Les Koenning, will prominently feature KU's running backs, sophomore Pooka Williams, senior Khalil Herbert and junior Dom Williams.
And those backs just might get some help on many of their carries from a lead blocker out of the backfield.
"Yeah, I think you're going to see fullbacks, too," Miles added of an offensive position that has become employed less and less in recent years. "They seem to walk around here. If you open your eyes, it's suddenly, 'Hey, I bet you he could play fullback.'"
KU's roster currently lists four players at fullback: senior Hudson Hall, sophomores Ben Miles and Sam Schroeder, and redshirt freshman Spencer Roe.
"We'll not use a fullback as routinely as you might think. But then again we might," Miles said, grinning.
Even if KU plays every down with a fullback in 2019, Miles, while remaining vague on the matter, has sent out signals that the offense won't look like one run by a Michigan team from the 1970s or 80s.
"Umm… No," Miles replied at Big 12 Football Media Days, when asked if the Jayhawks will be a team that runs the ball all the time and plays two tight ends and a fullback.
"What Kansas is going to be is the best players doing the best plays so that your opportunity at victory is greatest," Miles went on. "And we're looking to be more repetitive, where we have better players and the plays that we can run in the game will have the greatest success."
Miles said he wants the offense to be balanced and his plan is to make sure his offensive personnel is put in position to highlight the players' strengths.
And, yes, Miles has assured those asking during media sessions this summer, he is willing to adapt offensively and not stick to old strategies that worked for him at Oklahoma State and LSU before he spent two-plus years away from the sidelines.
"I think the style of football and what's going on in college football requires you to step into another style," Miles said this past week. "I think the things that I have always been, in terms of being a physical football team and really just pointing to some of those things that are inherent to a really quality football team, I think those things won't change. But I think we'll do some different things."
For one, Miles would have you believe the types of trickery he became known for pulling off in the past won't be a staple for KU.
"I ran one fake against K-State when I was at Oklahoma State. And I think I wore my fakes out," Miles said. "So we're going to have to do some other things."