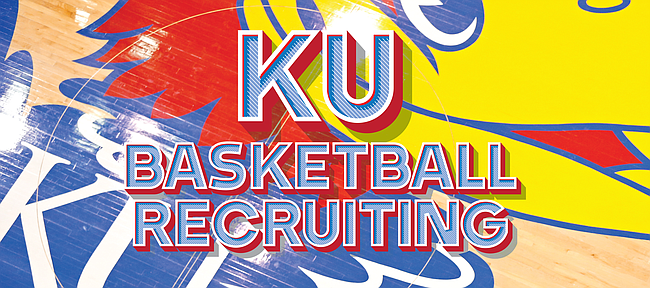 The college basketball recruiting class of 2019 has a new player in it. And his name is one you've probably heard a few hundred times before.
After weeks of wondering and speculation, Little Elm, Texas, guard R.J. Hampton on Tuesday made official his decision to reclassify from 2020 into the 2019 class.
Hampton, a 5-star prospect who sits very high on KU's wish list, announced the news in a video on Twitter.
"Best 3 years of my life," Hampton's Tuesday morning Tweet read. "Little Elm will forever and always be home. Thank you."
Podcast episode
With the news of highly acclaimed guard R.J. Hampton reclassifying to join the Class of 2019, KU basketball beat writer and Journal-World sports editor Matt Tait is joined by Benton Smith to discuss this development and various other factors that will determine what KU's roster could look like next season.
Included with it was a 1-minute video that featured the 6-foot-5 junior thanking a series of people who have helped him throughout his career, including his coaches, teammates, best friends and family.
"With that said, I've decided to forgo my senior season and join the Class of 2019," Hampton said to close the video.
Hampton's decision, which had been hinted at for the past several weeks, significantly impacts the recruiting scene in 2019. It's not that often that a top 5 talent becomes available this late in the game.
The programs involved with Hampton and his family have been recruiting him for a while. But it was only recently — and officially Tuesday — that they began to believe adding him to their roster was possible for the 2019-20 season.
The news comes a couple of days after Hampton told reporters at last weekend's Nike EYBL event in Atlanta that he felt like he had nothing more to prove in high school.
The dynamic, playmaking guard averaged 29 points, five assists and five rebounds last weekend in Atlanta.
"Hampton is considered to be one of the best prep guards in a number of years," KUsports.com recruiting insider Matt Scott said Tuesday. "Although he's a natural scorer, he can play either guard position and has a number of elite skills that make him an attractive option for any roster."
Hampton's reclassification was not the only news that surfaced in his recruitment on Tuesday.
After trimming his list to a final four of Duke, Kansas, Kentucky and Memphis a few weeks ago, Hampton cut one of his finalists on Tuesday and added a new program to the list.
Duke is out, Texas Tech and head coach Chris Beard are in and the race to land the No. 5-ranked player in the 2020 class, according to Rivals.com, is officially on.
Hampton told Rivals recruiting analyst Corey Evans that he was in the process of deciding which of the four he wants to visit in the months ahead and that a decision about his future would likely come sometime in July.
Hampton already has made visits to Kansas, Kentucky and Memphis. His KU visit took place in early March, but return trips to all three, along with a visit to Texas Tech — which sits 300 miles from his Little Elm home, just north of Dallas — could be on tap in the coming months.
The Red Raiders' recent rise and run to the 2019 national title game clearly impressed Hampton.
"I love the way Coach (Chris) Beard coaches and they are on a hot streak," Hampton told Evans. "It would be a lot of fun to get back to the national title game."
When talking with reporters in Atlanta over the weekend, Hampton's father, Rod Hampton, also made it crystal clear that he and his family have a strong connection with Kansas.
"(KU assistant) Jerrance Howard is like family to me," Rod Hampton said, according to JayhawkSlant.com. "I mean, we can talk about anything and be comfortable. It doesn't matter if I call him at 3 in the afternoon or 3 at night, he's going to pick up and vice versa. He's just like family.
"I would feel very, very comfortable dropping R.J. off at Kansas right now with Jerrance Howard and the coaching staff at Kansas. I would have no problem at all and would feel very comfortable with R.J. playing at Kansas with Jerrance and the staff. We are definitely comfortable with the coaching staff."
According to a report from 247 Sports recruiting analyst Evan Daniels, KU coach Bill Self conducted an in-home visit with Hampton and his family on Tuesday night.