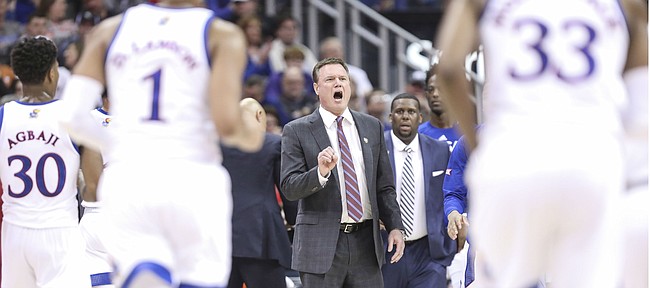 For the better part of his 45-minute presentation to a crowd of about 500 supporters during the Kansas basketball program's annual postseason banquet Tuesday night at the Burge Union, KU coach Bill Self spoke of being reenergized and excited about what's ahead while looking back on the Jayhawks' 26-10 season.
After it was over, Self doubled down on that thought, saying, in no uncertain terms, that he was at Kansas to stay and had no plans of going anywhere.
The need to address the topic came up partly because KU Athletic Director Jeff Long, during his welcome-to-the-party speech, referenced a pair of national stories in the past month that indicated that Self was leaving KU to become the head coach of the Chicago Bulls.
"There is no one better to lead our program now and in the future than coach Bill Self," Long said. "We have all heard the rumors about Coach Self leaving us. I've heard them. Bill's heard them and we've talked about it. Bill has addressed the speculation with the media and with others who have used the rumors to negatively impact our recruiting. Well, I've got news for those (people). That tactic won't work. These are just rumors. … Chancellor (Doug) Girod and I are thrilled that Bill Self and (wife) Cindy are the leaders of our basketball program, winning championships in the right way as he has done for the last 16 years. And we are planning for him to lead this program for many, many more years."
Self backed that plan and shared a little bit about what followed in the days after the reports first surfaced.
"As soon as the NBA rumors came out, I went to our administration and said, 'Hey, just so you know, I'm not going anywhere,'" Self explained. "And I certainly would not go anywhere right now at all. … Whenever there were rumors — and that's what they are, rumors, with no basis behind any of them — that I was not going to be the coach here because I was going to a different place or (would) not be around because of the NCAA or whatever, that couldn't be further from the truth. I've still got three years left on my deal and hopefully, sometime between now and the end of that, there'll be some talks about re-upping that. But I'm totally happy right now and I'm not going anywhere. Anywhere. I'll be the coach at Kansas next year."
Tuesday's event, which featured all of the bells and whistles of past events just like it, included a brief intro from broadcaster Brian Hanni, a dinner for the KU fans in attendance and a 45-minute highlight video that summarized the season.
Self then thanked dozens of people in the KU athletic department for their efforts this season and introduced his coaching staff and players, many of whom will be leaving Lawrence in the near future for new challenges.
Dedric Lawson, who won the Danny Manning Mr. Jayhawk Award — the only award the KU program hands out on a yearly basis — is one of three players from the 2018-19 roster who have declared for the 2019 NBA Draft.
Charlie Moore and K.J. Lawson also have announced their intentions to transfer. And Lagerald Vick, who was not in attendance on Tuesday, has exhausted his eligibility.
Despite all of the ups and downs of a rocky season that was filled with injuries and saw the Jayhawks' streak of 14 consecutive Big 12 titles come to an end, Self emphasized to everyone in the room that he was not disappointed by the season, but encouraged, not frustrated by the 10 losses, but hopeful for the foundation it put down for the future of Kansas basketball.
After rattling off all that KU accomplished during Vick's four years — three Elite Eights, a Final Four, three Big 12 titles and numerous other trophies — Self said simply, "The thing I'm really proud of is it's not good enough. No matter what we do, we want more."
He continued: "You know what happened this year? We got our butts beat by teams that were probably better than us this one year. But when we had our full complement of players, minus one (Silvio De Sousa), we were the best team in the country. And I don't know if you take two of the top three leading scorers off Virginia, if they're national champions. I don't know if you take two of the top three scorers off (Texas) Tech, if they're runners-up. I know if you take two of the top three off Duke or Carolina or Kentucky, they're going to labor, as well. Well, our labor year was a 4 seed. So I take great pride in that."