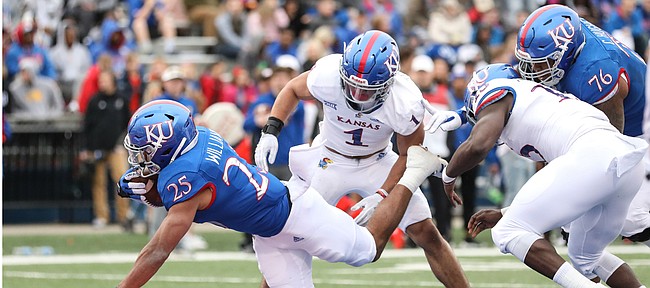 Spring games aren't supposed to reveal much of anything about a college football team's potential — head coaches such as Les Miles would have it no other way.
Appropriately, as Miles, the former national championship winning coach at LSU, made his Kansas debut Saturday night at David Booth Kansas Memorial Stadium, he and his staff went out of their way to get as many Jayhawks involved as possible, even rotating between four quarterbacks throughout the first half.
The presumed frontrunner for the starting QB job when the games actually count this coming fall, junior Thomas MacVittie, started. But after a series he was replaced, and the revolving door at QB kept on turning throughout the scrimmage, as an estimated crowd of 5,000 got its first glance at the Miles-coached Jayhawks at an event KU rebranded this spring as "Late Night Under the Lights."
First it was MacVittie at QB. Then came Miles Kendrick, followed by Carter Stanley and Torry Locklin, all before the first-quarter clock hit the 8:00 mark.
And with none of the passers in long enough to develop a real rhythm, it was the Jayhawks' running backs who ended up stealing the show.
Stanley, the team's redshirt senior QB, tried to open the offensive floodgates with a deep shot down the field for Kwamie Lassiter II, but their timing was off, leading to an incompletion.
Photo Gallery
Kansas football Spring Game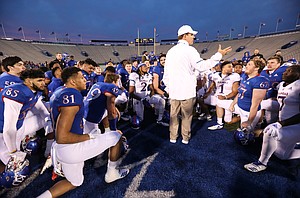 View a gallery from the Kansas football Spring Game on Saturday, April 13, 2019 at Memorial Stadium.
The scrimmage wouldn't stay scoreless for long. On the very next snap, junior running back Dom Williams took off down the right sideline for a 52-yard touchdown.
Williams, who finished with 97 rushing yards and two touchdowns on 12 carries, proved to be a trendsetter for the exhibition, as long runs ruled the night.
Freshman QB Locklin took off next, going 38 yards on his first series — one that concluded with the 6-foot-2, 210-pounder from Rockdale, Texas, basically walking in for a short rushing touchdown and the scrimmage's second score.
While that early TD put the Blue team up 14 points, the White team never really stood a chance on the scoreboard. With an offense versus defense format, Blue rolled to a 45-7 victory, powered by 454 rushing yards.
KU's passing attack was far from nonexistent, though. On the third scoring series of the first quarter, catches by junior transfer Ezra Naylor on passes from MacVittie kept the drive alive before Williams ran in for his second TD.
The only significant miscue of the opening quarter — the scrimmage featured two 15-minutes quarters in the first half, then a 30-minute running clock after halftime — came on a punt, when walk-on Donovan Franklin muffed a punt. But long snapper Logan Klusman helped the Blue team salvage the mistake with a recovery.
The White team, better known as the defense on this night, then lulled the exhibition to a slower pace with stops in the second quarter, before sophomore receiver Takulve Williams took a handoff in the backfield and shot down the left sideline for a 70-yard score.
Takulve Williams finished with 84 rushing yards but was only third on the team in that category, behind Dom Williams (97 yards) and senior running back Khalil Herbert, who rushed for 154 yards, a personal long of 61 yards and one TD.
Oddly enough, the only passing touchdown of the night came early in the second half, when Miles was giving his walk-ons reps at quarterback.
Redshirt freshman Billy Maples went on the move to keep a play alive and completed a 23-yard TD pass to Naylor (team-best 75 receiving yards on six catches), in an open spot between three Kansas defenders in the end zone.
But the other scholarship QBs weren't done for the night. MacVittie returned for a few second-half snaps before finishing his unofficial KU debut 12 for 21 through the air, with 95 passing yards.
The 6-foot-5 former Pittsburgh and Mesa Community College (Ariz.) QB would also finish the night credited with the offense's only turnover. Senior safety Shaq Richmond deflected a MacVittie pass and redshirt sophomore safety Davon Ferguson got to do the fun part, speeding the other direction for a 74-yard pick six, giving White it's only score.
Stanley attempted the second-most passes, going 6 for 17 for 71 yards. Kendrick finished 3 for 9 for 22 yards. Walk-on Miles Fallin, who opened the second half at QB, was 2 for 7 for 17 yards. Locklin went 2 for 5 for 11 yards and Maples was 1 for 3.
Naylor and Lassiter proved to be popular targets for Kansas quarterbacks. The two receivers tied for the team-lead in catches, with six apiece. Lassiter's grabs turned into 60 yards of offense.
Senior receiver Daylon Charlot caught four passes for 26 yards, Stephon Robinson Jr. provided three catches and 22 yards, while Takulve Williams' productive rushing night also included a couple of catches for 24 yards.
Neither Miles nor any KU football players were made available for interviews after the spring game. The program's communications staff cited "logistical time constraints" for the lack of postgame comments, with rapper Rick Ross performing on the stadium's turf after the scrimmage.
Miles and select Jayhawks are scheduled to speak with the media on Monday.