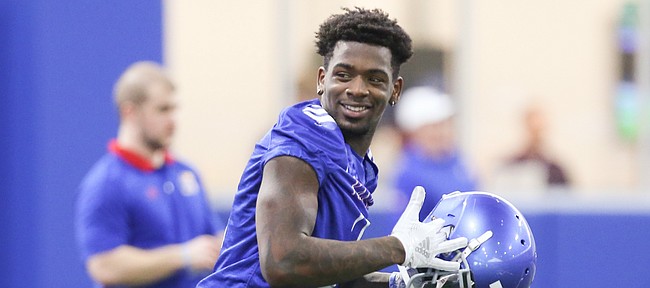 When Daylon Charlot left college football juggernaut Alabama in 2016, he had extensive on-field plans in store for his next stop.
The receiver from Patterson, La., didn't anticipate it taking him long to become a prominent part of the offense at his new home, the University of Kansas.
But after one redshirt transfer year, followed by back-to-back seasons in which Charlot never grew into the type of impactful wideout he still believes he can be, the 6-foot, 193-pound senior who was once a four-star high school prospect in the Class of 2015 knows this is a come hell or high water type of year.
KU's two most consistently productive receivers from the 2018 season, Steven Sims Jr. and Jeremiah Booker, are gone.
So is the previous coaching staff, which recruited Charlot successfully to Kansas but never was able to unleash him as a weapon in the passing attack.
Now when Charlot looks around at spring practices, he says he sees not only talent around him, but also an opportunity to finally work his way into a starring role with the Jayhawks.
"I feel like in the past I've been going through injuries, fighting injuries, going through adversity a lot. I feel like now that I'm healthy and everything, I'm going to have a great year, a big year," Charlot predicted. "And I'm going to lead the receiver room."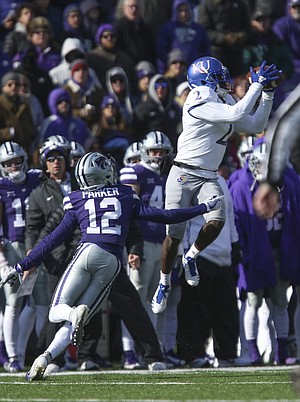 While making such declarations, Charlot doesn't include any claims about needing to be the No. 1 option on offense or even the go-to target at his position.
No doubt humbled by the fashion in which the past couple of years turned out for him, Charlot quickly transitioned to a different subject after addressing how his upcoming final college football season could be substantially different for him individually.
"The new guys that came in, they're going to help us a lot, too," Charlot pointed out.
The additions he was sure to bring up are the two junior college transfers from Les Miles' first KU recruiting class, Ezra Naylor and Andrew Parchment.
Charlot and other Jayhawks have raved about the 6-2, 185-pound Parchment's speed, and they expect the 6-4, 210-pound Naylor to be a big-body target that will help the passing game.
"So we want those guys to make plays, too," Charlot said, adding both Parchment and Naylor have shown off not only their football smarts this spring, but also their playmaking potential.
The Jayhawks will need their former Crimson Tide receiver, their transfers from Iowa Central Community College and others producing in order for the offense to truly take off.
Only seven KU players reached double digits in receptions in 2018. Three were seniors and one was currently suspended running back Pooka Williams (33 catches, 289 yards, two touchdowns).
The three most productive returning receivers are Charlot (12 receptions, 178 yards, two TDs), Stephon Robinson Jr. (28 catches, 330 yards, one TD) and Kwamie Lassiter II (12 catches, 87 yards, one TD).
According to Charlot, KU's receiving corps got off to a strong start this spring. He credited the "energy" from assistants, such as the group's position coach, Emmett Jones, for making that happen.
"The talent level is pretty high," Charlot added of KU's receivers, a group that also includes Evan Fairs, Takulve Williams, Kameron McQueen and others. "Just our whole group is very mature, very smart and just ready to make plays."
KU football supporters can get an early preview of the Jayhawks' receivers, as well as the rest of the program's first Miles-coached team, Saturday night at David Booth Kansas Memorial Stadium.
"We're very excited. We feel like a lot of people will show up," Charlot said of the spring game. "Everybody also wants to see how good we're going to be this season, too."
Before rapper Rick Ross takes the stage for a post-scrimmage performance, many of the eyes in the bleachers will focus on Charlot, trying to determine whether his breakthrough season is finally on the horizon.
KU's spring game is scheduled to begin at 6 p.m. Saturday. It will be available to stream on ESPN+ and broadcasted locally and throughout the state on various cable platforms.