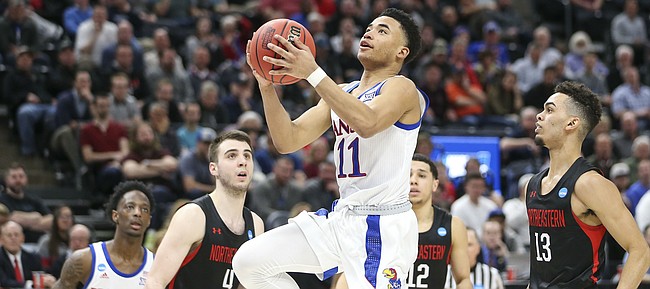 As veteran teams Texas Tech and Virginia prepare to play for college basketball's biggest prize, Bill Self's 2018-19 Kansas team is left to reflect on the 26-10 season that ended in the second round.
And while the end of a rocky season came with plenty of heartbreak and disappointment, Self actually found plenty of reason for hope in looking at the four teams that reached this season's Final Four in Minneapolis.
For starters, the Jayhawks only figure to be a more mature and experienced team next season, with a core of returning underclassmen and Self and company mining the graduate transfer route in the coming weeks.
Beyond that, though, there's enough evidence that the blueprint that worked for this year's Final Four teams can work for the Jayhawks, too.
"You look at Michigan State, they lost in the second round last year and look what they're doing now," Self said during a recent interview with the Journal-World. "There's a lot of examples out there that show this can end up being a good thing over time."
It's not just current examples that can work for Self as he looks back on this season and ahead at what's to come.
On more than one occasion during his first 16 seasons at Kansas Self has fielded freshmen-heavy teams that struggled early and went on to do big things.
"We started three freshman when we lost in the first round to Bradley (in 2006) that went on to win a national championship," Self recalled. "This year we started four freshmen that lost in the second round and actually did better than that team that won a national championship a couple years later. So I'll look at it as a positive."
Asked how this most recent group, which included four freshmen who started during the final third of the season — Ochai Agbaji, Devon Dotson, Quentin Grimes and David McCormack — stacked up against the likes of then-freshmen Mario Chalmers, Brandon Rush and Julian Wright, Self was honest in his assessment.
"This group isn't quite as talented," he said. "But with the right pieces to go along with it, (they) could have similar type success. I do believe that. But we've got to get the right pieces to go along with them."
Self continued: "So much of it is intangibles. There's nothing that says that this team couldn't have a Sasha Kaun or a Darnell Jackson or a Russell Robinson on it. Because those (freshmen – Chalmers, Rush and Wright) weren't ready when they were young. It took them a little bit of time. So this group going through what they went through could maybe enable them to become that a little bit sooner."
Dedric on the move?
A weekend Tweet from national basketball analyst Jeff Goodman, of Stadium, indicated that KU junior Dedric Lawson was expected to sign with an agent and declare for the NBA draft.
Lawson, who averaged 19 points and 10 rebounds while recording 22 double-doubles for the Jayhawks during his first year of eligibility in Lawrence, has long been considered to be gone following the 2018-19 season.
Many close to KU's program expected Lawson to at least test his NBA status following the season, but the hiring of an agent is not quite the final straw that it used to be.
A new NCAA rule, which was passed last summer, allows for prospects to hire an agent to help them with the pre-draft process and still return to school provided the agent is certified by the NCAA and the player requests and receives an evaluation from the NBA Undergraduate Advisory Committee.
The deadline for such a request is Thursday and it is unknown at this time whether Lawson, if Goodman's report is accurate, will go that route.