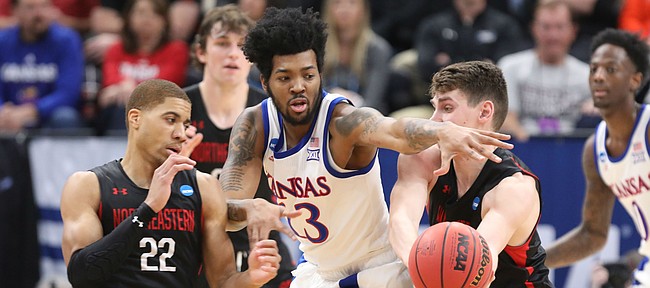 A source close to the Lawson family confirmed to the Journal-World late Thursday night that reports about KU sophomore K.J. Lawson entering the transfer portal were in fact true.
Several outlets, including 247 Sports as well as national college basketball Jeff Goodman, first reported the news on Thursday evening.
KU coach Bill Self, through a news release sent out at 9:30 a.m. Friday, confirmed the news, saying, "K.J. will graduate this spring and transfer as a graduate transfer. We appreciate his time and efforts at KU and wish him the best moving forward."
Lawson, who will turn 23 on May 7 and graduate from KU later that month, will be immediately eligible to play for his next school because of the graduate transfer rule.
The 6-foot-8, 210-pound guard from Memphis, who transferred to KU with his younger brother Dedric Lawson before the 2017-18 season, played in 34 games during his lone season of eligibility with the Jayhawks.
While playing limited and inconsistent minutes during KU's 26-10 season which recently wrapped up, Lawson averaged 3.1 points and 2.0 rebounds in 10 minutes per game while shooting 46.3 percent from the floor and 31 percent from 3-point range.
Lawson came up big in a handful of games for the Jayhawks, including a road win at TCU that kept Kansas in the Big 12 title race and the team's first-round NCAA Tournament win over Northeastern a couple of weeks ago.
It is not yet known where Lawson, who plans to get married on July 14 to a woman he met at KU, will transfer, but some have speculated about a return to Memphis, where he could play for new Memphis coach Penny Hardaway, who coached him in AAU ball.
A little less than 2 weeks before making his decision to leave Kansas, Lawson said he enjoyed every second of his brief career as a Jayhawk.
"Just being at KU, it's a great feeling," he told the Journal-World after KU's loss to Auburn. "These fans, there's no better place to play, and I always looked forward to playing in that crowd and that building."
Lawson becomes the second member of KU's 2018-19 team to decide to transfer during the offseason, joining backup guard Charlie Moore, who last weekend announced his plans to relocate closer to his hometown of Chicago.
With at least three other Jayhawks — Dedric Lawson, Udoka Azubuike and Quentin Grimes — still facing stay-or-go decisions about their futures, Self could soon have several scholarships available to hand out in the Class of 2019.
In an interview with the Journal-World last weekend, Self provided an easy way to remember exactly how many that would be in the weeks ahead.
"We can basically sign the number that leaves," Self said. "That can be as many as four or five or it could be as few as two or three."
Right now, after the news of K.J. Lawson's departure, the number of KU's available scholarships sits at 2. Stay tuned to see just how high it climbs.