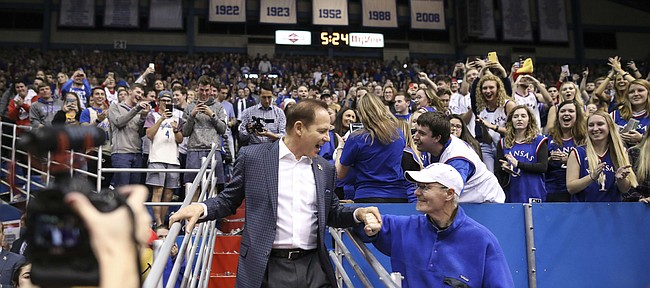 It's been 137 days since Les Miles was introduced as the next football coach at the University of Kansas and in that time the program has taken on an entirely different look.
From a new coaching staff and fresh crop of players to the way things are done around the complex and inside the brand new indoor facility, Kansas football is quickly distancing itself from the days of the past.
The only place that will really matter is on the field this fall, and the jury is still out on whether significant changes will be a part of the 2019 team's season, too, and whether they'll be enough.
Either way, now that Miles and company have reached the final few practices of their first session of spring football, it feels like as good a time as any to examine what we know about the KU football program's new leader.
We don't know who his quarterback will be yet. Even if we do. We don't know the identity of the 2-deep depth chart, although some sections of that are becoming clearer with each passing week. And we don't really know what type of offense Miles will run, how his defense will operate, whether he'll call heads or tails for the coin flip or how many games he expects this team to win in Year 1.
But we do know this — Les Miles is going for it.
For Miles, the football part is easy. It's a game he's been around seemingly all of his life and a job he has done very well at all of his coaching stops. Modern times, an evolving game and a new environment won't change that, even if all three do present legitimate challenges for Miles.
It's the rest of the equation — the most important part, which includes selling the program to the public — where Miles is really going for it, though. And whether that's actually his doing or part of a bigger marketing and branding initiative tackled by a team of new Jayhawks, Miles is the man at center stage for all of it.
Don't get me wrong, this program needed better coaching and player development when Miles took over and has needed it for the better part of a decade. But getting the fans to buy in, no matter what has been sold, has proven to be one of the absolute toughest — and most important — parts of this job.
To that end, it's clear that Miles, at least during his first 137 days as a Jayhawk, is doing everything he can to try to bring fans back to the program.

Some of it has been terrific.
Buying lunch for KU students last week at The Underground was a great move and no doubt gained him some fans among the student body.
On Wednesday, Miles was at it again, back in the heart of KU's campus, playing tailgate games against students and handing out prizes to the winners. More goodwill. Free food and free stuff have a way of speaking to college students.
These gestures won't gain Kansas so much as a single first down during the upcoming season. And they're not a completely foreign concept. Many of Miles' predecessors tried these same engagement stunts, but few of them did it with the regularity that Miles currently is and none of them backed it up by producing on the field.
There's the rub.
Miles could buy lunch for 5,000 KU students a day for six months straight and not have it matter one bit on Saturdays at David Booth Kansas Memorial Stadium unless the team on the field is worth watching.
That part takes time. And Miles deserves more of it before we judge him as the head coach at Kansas.
As for his part-time role as KU football hype man, the first-year KU coach gets high marks in that department.
All we need to watch for now is whether Miles' outreach efforts truly make a difference and if the product on the field and in the locker room is prepared to take advantage of it if they do.
Stay tuned.