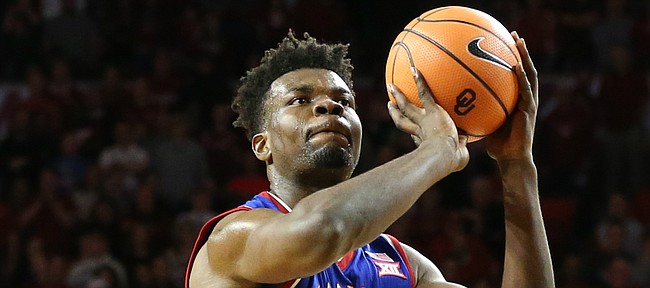 The official Late Night box score featured just two free-throw attempts. And only one of them was actually shot.
But, boy, were those two free-throw tallies pretty notable.
The reason?
They came from Kansas center Udoka Azubuike, who misfired on his only free-throw attempt and was given credit for a make on the other in order to keep the flow of the 20-minute scrimmage going.
Despite the miss and the small sample size, KU coach Bill Self left the game encouraged by the unofficial 2018-19 free-throw debut of a player who shot just .413 from the free-throw line a season ago, while finishing as the team's fourth leading scorer.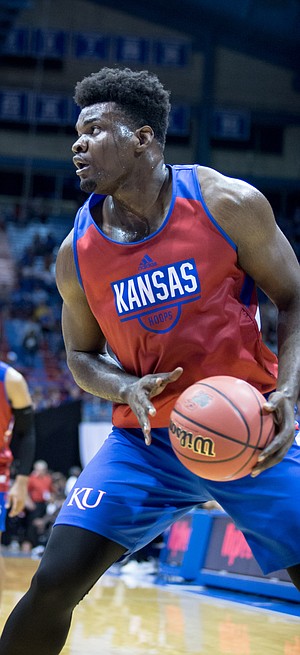 "I told the guys, I said, 'Look how much better this is,'" Self recalled of his immediate thoughts after Azubuike's free-throw attempt.
Although Azubuike improved slightly to shoot 47 percent from the free-throw line (21-of-45) over the final 19 games of the 2017-18 season after a high-profile, much-talked-about 1-of-8 showing at the line in a loss at Oklahoma, the 7-foot center's issues at the free-throw line remained a popular storyline and never really went away.
After putting in hours of extra time — with coaches, teammates and on his own — to retool and improve his free-throw stroke during the heart of the 2017-18 season, Azubuike followed up that OU embarrassment by making 18 of 30 free throws (60 percent) in the next seven games. That included a 7-of-10 clip in a home win over West Virginia. And it's that kind of production the Jayhawks are hoping for this season.
"I think 60s would be a very realistic goal," Self said. "Seventy (percent) would be an off-the-chart goal. But I told somebody earlier, I think 65 is realistic. If he could do that, that would help our team a lot."
While the Late Night showing added strength to Self's belief that his big man's free-throw stroke had improved, the veteran coach also said Friday that there were still a couple of hurdles to clear before he, and others, considered Azubuike a consistently reliable free-throw shooter.
"He's going to have to see some go in in game situations," Self said. "Because he can go out there in practice and you can stand next to him and he can make eight or 10 in a row. But (at practice), nobody's in the stands. So he's got to see it go in under game situations. But he's going to shoot a lot better this year than he did last year."