University of Kansas receiver Steven Sims Jr. put together on Saturday what easily qualified as the most prolific game of his senior season.
But it wasn't his individual success that had Sims talkative following the Jayhawks' loss to Oklahoma State.
After catching no more than four passes and contributing no better than 47 yards in any of the Jayhawks' first four games, the 5-foot-10, 176-pound Sims played out of the slot against the Cowboys and finished with a career-high 10 receptions for 89 yards and a touchdown.
"I'm happy with my production just going up a little bit. Of course, I'm happy about that," Sims said, "but we didn't come out with the victory, so what I did wasn't enough."
The subject of Carter Stanley's play at quarterback, though, inspired prolonged responses out of the receiver, who, like Stanley, joined KU as a Class of 2015 signee.
Photo Gallery
Gallery: KU football vs. Oklahoma State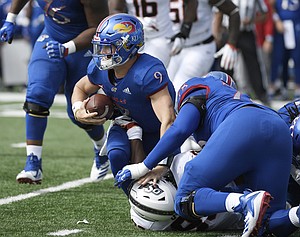 Kansas suffered a 44-28 loss to Oklahoma State Saturday at David Booth Memorial Stadium. The Jayhawks (2-3, 0-2 Big 12) have dropped the previous nine meetings with the Cowboys (4-1, 1-1).
Sims prefaced his praise of Stanley, who started for the first time this season in the Jayhawks' 48-28 homecoming loss to OSU, by saying he approached playing with Stanley the same as he would if Peyton Bender or Miles Kendrick were at QB.
Then, Sims explained why he seemed to have chemistry with Stanley.
"I just knew that Carter would definitely extend plays and he can create for the offense," Sims said after the redshirt junior QB connected on 24 of 32 passes for 247 yards and three touchdowns. "You never know what play it's going to be, so just always run your play full speed and don't look back, don't stop, because he'll hit you when you don't think you're going to get it."
That ability to keep plays alive doesn't always work. The Cowboys sacked Stanley five times.
Still, Sims lit up while sharing his perception of what makes Stanley a compelling talent for the KU offense.
"When we put up points and we see our quarterback dropping a shoulder, trying to run defenders over, that's energy," Sims said, referring to the QB's willingness to block in the open field and also take on hard-hitting defenders, just like he did back in 2016, while leading KU to a victory over Texas. "That brings energy to the team. Because what quarterbacks do you all know dropping their shoulder on safeties? You don't know any. But Carter Stanley does that, and that's fun. Because that's like playing little league football. That reminds you of all the fun times you had when you were five years old."
After spending the week of practices leading up to the OSU game with Sims taking more reps as an inside receiver than normal, Stanley could tell the senior receiver looked comfortable with the game plan.
"I liked him being there for sure," Stanley said. "I don't know what it will be like going forward."
The duo had more certainty on their touchdown connection early on in the fourth quarter, even though the play call came on 4th and 3 at the OSU 31-yard line. One of three receivers lined up on the right side of the formation, while Sims broke free for the right sideline as defenders lost track of him, allowing Stanley to fire a 31-yard TD.
"We're in that area of the field where it's definitely reasonable to go for it on fourth down," Stanley said, noting the Jayhawks "froze" the play before the snap to see what type of coverage the defense was in. "Coaches had a great call. Steven was getting jammed at first, getting held a little bit, did a great job breaking a guy off, getting open and making a play."
Head coach David Beaty wasn't ready to name Stanley KU's starting QB after the offense had its best passing performance of the season, surpassing the 199 yards and two TDs against Nicholls State. Nor did Beaty want to commit to Sims playing in the slot instead of out wide moving forward.
But the fourth-year KU coach counted Sims' re-emergence as one of the few positives from a 20-point defeat.
"I thought there was one point there in the second half where we offensively looked like the team that we saw in fall camp," Beaty said. "And it was a lot of the things that we really want to be."
As for now, what KU's offensive personnel will look like at West Virginia (11 a.m., ESPN2) this coming Saturday remains unclear.
Even Sims realized Stanley's productive day didn't mean the QB who entered the season as the No. 3 option will start the next game.
"We'll just keep rotating and whoever wins the job that week, that's who we're riding with," Sims said, "and we're confident."