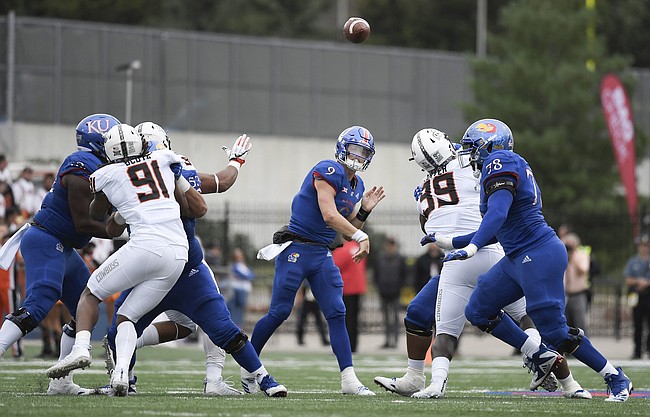 New starting quarterback Carter Stanley only did so much for the Kansas football team's chances Saturday at David Booth Kansas Memorial Stadium, where 18,364 fans saw Oklahoma State dismember the Jayhawks' defense.
When the Cowboys weren't gashing the Jayhawks with Justice Hill runs they directed Taylor Cornelius to take deep shots down the field. The senior quarterback obliged, giving OSU a complementary attack KU couldn't solve in a 48-28 home loss.
Cornelius only misfired on five of his 20 passes, on the way to a 312-yard, four-touchdown demolishing of KU's defense, which looked like the team's strength over the course of the first four weeks.
Hill, too, carved up chunks of yardage, totaling 189 on the ground on 31 carries.
"Big plays, really, was the tale of the tape at the end of the day," Kansas head coach David Beaty said of one of the issues his team proved unable of overcoming. "Because we're clawing back into the game offensively a little bit here and there, and then we give up a big play that we simply haven't seen that by our defense. That's something that we're really going to have to go back and look at and make sure we've got our guys prepared for."
Document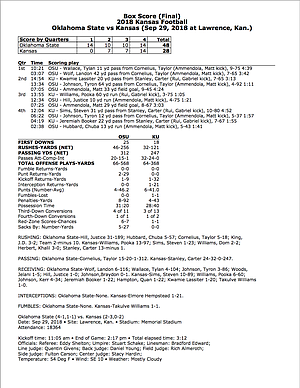 On a day that redshirt junior Stanley started at quarterback for the first time this season and KU actually abandoned the two-quarterback approach that ruled the previous four games, not even Stanley's 24-for-32 passing game for 247 yards and three touchdowns could spark an upset.
If the Jayhawks (2-3 overall, 0-2 Big 12) were ever going to truly give themselves a chance to beat the Cowboys (4-1, 1-1), they needed to capitalize early in the fourth quarter, when a rare defensive stop gave the home team the ball with 9:50 to play, in a relatively manageable 34-21 hole.
"It definitely did feel close," Stanley said of that stage of the loss, before reflecting on OSU's 24-7 halftime advantage. "And I wasn't trying to think of it at the time, but I wish we could've done more in the first half. Definitely could've helped us out there, and helped our defense out, as well. But second half it felt like it flowed a lot better and I'm proud of our guys for fighting and never giving up."
Nevertheless, Kansas went three-and-out when it had to come up with a critical scoring drive. It only took OSU five plays to extinguish the home underdog's chances, and Cornelius threw his fourth touchdown pass of the afternoon with a precise 12-yard toss to the back left corner of the end zone, setting up Tyron Johnson for the score and the Cowboys for a 20-point lead.
Afterward, Beaty marveled at Cornelius' 20.8 yards per completion average.
"Man, that number can not happen. We have to be better than that," KU's fourth-year coach said of the defense. "(The Cowboys) were pretty good. They connected on them today."
To KU's credit, Stanley and the offense orchestrated a 1:55 response, with the new starting QB hitting senior receiver Jeremiah Booker for a 22-yard score with 4:19 to play, making OSU's lead 41-28.
Photo Gallery
Gallery: KU football vs. Oklahoma State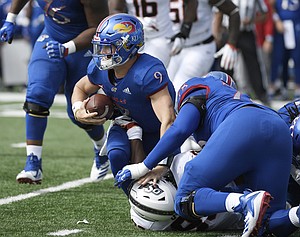 Kansas suffered a 44-28 loss to Oklahoma State Saturday at David Booth Memorial Stadium. The Jayhawks (2-3, 0-2 Big 12) have dropped the previous nine meetings with the Cowboys (4-1, 1-1).
The ensuing onside kick attempt off the foot of Gabriel Rui, though, was recovered by the Cowboys, who quickly tacked on another score.
The quick-strike ability of KU running back Pooka Williams (13 carries for 98 yards) briefly trimmed the Cowboys' margin to 10 less than two minutes into the second half. The 5-foot-10, 170-pound freshman jetted to a 60-yard score before OSU, which outgained KU 568-368 in total yardage, got the ball back and delivered one of its eight scoring drives.
The explosion from Williams served as a reminder of both his game-changing ability and how little the KU offense did to harness it in the first half, when Hill ran for 114 yards and Williams only nine, on four carries.
KU's offense, prior to intermission, only put up 106 yards and a single scoring drive.
"I couldn't just put my finger on one thing in particular," KU senior receiver Steven Sims Jr. (10 receptions, 89 yards and a TD) said of the offense's slow start. "But we've just got to score. First drive of the game, we have to put up points. We've got to go answer just to keep the momentum balanced, so we don't put ourselves in a hole or deflate our defense, keep them on the field tired early."
What turned out to be no more than fleeting hope for KU emerged on its second offensive possession. The Cowboys gifted the Jayhawks a key first down on 4th and 14 when Jarrick Bernard basically tackled KU punter Kyle Thompson, drawing a roughing the kicker penalty.
Three snaps later, on the first play of the second quarter, Stanley lofted a 20-yard pass for Kwamie Lassiter II in the front half of the end zone, and the 5-foot-11 sophomore snagged it out of the sky over a defender.
However, it only took the cutthroat OSU offense four plays to traverse 92 yards of turf, once Johnson beat cornerback Shak Taylor's man-to-man coverage for a 64-yard touchdown.
After Oklahoma State sauntered to the end zone on a nine-play, 75-yard touchdown drive to open the game, KU's first series included a pair of first downs, not only with Stanley at QB, but Pooka Williams lining up at the spot from within a wildcat formation, too, only to hand off to receiver Steven Sims Jr. on a reverse for a 23-yard gain. But the possession closed with Stanley's first incompletion, in the direction of Kerr Johnson, and KU opted for a 52-yard field goal try by Gabriel Rui, which had the distance but missed to the right.
The Cowboys made that fruitless drive sting, as well, by striking quickly with a 65-yard TD drive, capped by Landon Wolf putting a move on Hasan Defense and burning the KU safety deep for a 42-yard catch and score.
"You can't give up big plays. That's one of the big things that we talked about," Beaty reiterated, calling the defensive issues "very" correctable. "We've got to make sure we cut those off before they show up."
KU travels to No. 12 West Virginia (4-0, 2-0) next week.
SCORING SUMMARY
FIRST QUARTER
10:21 — Tylan Wallace 11 pass from Taylor Cornelius. Matt Ammendola kick. Nine-play drive for 75 yards, in 4:39. (OSU 7, KU 0.)
3:07 — Landon Wolf 42 pass from Cornelius. Ammendola kick. Seven-play drive for 65 yards, in 3:42. (OSU 14, KU 0.)
SECOND QUARTER
14:54 — Kwamie Lassiter II 20 pass from Carter Stanley. Gabriel Rui kick. Seven-play drive for 65 yards, in 3:13. (OSU 14, KU 7.)
13:34 — Tyron Johnson 64 pass from Cornelius. Ammendola kick. Four-play drive for 92 yards, in 1:11. (OSU 21, KU 7.)
7:05 — Ammendola 33 field goal. Nine-play drive for 45 yards, in 4:24. (OSU 24, KU 7.)
THIRD QUARTER
13:55 — Pooka Williams 60 run. Rui kick. Three-play drive for 75 yards, in 1:05. (OSU 24, KU 14.)
12:34 — Justice Hill 10 run. Ammendola kick. Four-play drive for 75 yards, in 1:21. (OSU 31, KU 14.)
7:25 — Ammendola 29 field goal. Eight-play drive for 67 yards, in 3:03. (OSU 34, KU 14.)
FOURTH QUARTER
12:04 — Steven Sims 31 pass from Stanley. Rui kick. Ten-play drive for 80 yards, in 4:52. (OSU 34, KU 21.)
6:22 — Johnson 12 pass from Cornelius. Ammendola kick. Five-play drive for 37 yards, in 1:57. (OSU 41, KU 21.)
4:19 — Jeremiah Booker 22 pass from Stanley. Rui kick. Seven-play drive for 67 yards, in 1:55. (OSU 41, KU 28.)
2:38 — Chuba Hubbard 13 run. Ammendola kick. Five-play drive for 43 yards, in 1:41. (OSU 48, KU 28.)