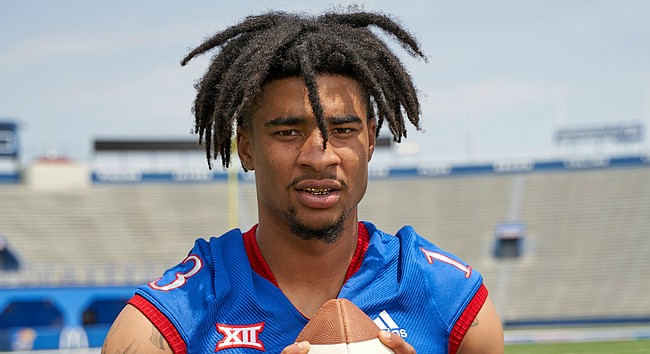 Hasan Defense doesn't mind telling you his first career start at safety didn't live up to his standards.
Sure, the University of Kansas junior made eight total tackles, the third-most on the team, during a loss at Baylor. But ask the man whose previous 11 starts at the FBS level came at cornerback to assess his impact as a safety this past weekend and "all right" is as close to glowing as he will venture.
"I feel like I could've done a lot better," confessed Defense, never one to waver in the confidence department.
Just three weeks earlier, the 5-foot-11, 188-pound Jacksonville, Fla., native started for KU at cornerback in the season opener against Nicholls State. Defense made four total tackles, one for a loss, and broke up two passes.
Then, he disappeared from the lineup.
True freshman Corione Harris took over Defense's spot ahead of the Jayhawks' trip to Central Michigan in Week 2.
Those looking for Defense could only find him on the sideline. But he wasn't sulking. Defense, starting corner Shak Taylor shared, was easy to spot, because he spent most of the game talking up his defensive teammates, often those playing in the secondary instead of him.
"He was helping out, speaking to us on what he saw and what we could do," said Taylor, who started alongside Defense throughout the 2017 season, as well as in Week 1. "He was keeping that positive energy up on the defense."
KU isn't making assistant coaches available for interviews this season, but Defense disclosed that his position coach and defensive coordinator, Clint Bowen, moved Harris to the top of the depth chart because KU's longtime assistant thought that would give the defense its best lineup, and the staff wanted Harris ready for Big 12 play.
So Defense mostly watched from the bench during KU's back-to-back wins over Central Michigan and Rutgers.
"It was different. I always want to be on the field," Defense said. "But sometimes, you've got to step back, let the cards play out and just do your best. I know when I sat back I helped the corners as much as possible, especially with Corione being young and those games being where we're not going to see the best competition but we need to know that technique is one thing we need to focus on."
After two weeks of spending game days trying to help Harris stay on the "right path," Defense returned to the starting lineup at Baylor, replacing Ricky Thomas at safety.
And it wasn't as if the coaches were asking Defense to do something totally new. Bowen had his returning starting corner taking snaps at safety throughout August and the first few weeks of regular season practices before sending him out for a real test.
"I finally got the reps in the game," Defense said. "I felt like after I made a couple plays, it all became more natural to me, so that was pretty good. I just went with the flow."
The new safety got involved early, sniffing out a Charlie Brewer completion to Chris Platt and bringing down the receiver in the backfield.
Fellow KU safety Mike Lee said Defense proved he could make open-field tackles.
"He's got corner skill sets, great footwork," Lee said. "He doesn't have to, like, slow his feet down to tackle. Some safeties like to run fast and they'll miss it sometimes."
Those cornerback attributes allowed KU to test Defense's versatility at the safety spot, essentially letting him play as an extra corner in a few situations. Defense could cover a speedy slot receiver or defend an inside receiver out of a dime formation.
"That's pretty much my advantage, being able to press a number three receiver," Defense said.
KU head coach David Beaty, asked what his video review of the game revealed about the new starting safety, said Defense did "some really nice things," including tackling well, but also noted that Defense got flagged for holding on a third-down play in the fourth quarter, extending a BU drive.
"He was very physical. We had him doing some different things than maybe a conventional safety would be, and I thought he handled it for the most part," Beaty said, "particularly a guy that hasn't been on the field a lot here the last couple weeks. So it was good to see him step back in there and do some good things. I think he'll learn and he'll only get better from there."
The junior defensive back's self critique after watching the footage left him disappointed in some aspects of his play.
"There were definitely things I knew I should be doing but just didn't do it," Defense said. "Just being the heat of the moment, trying to make sure I have everything right, really. Just playing a little timid and not being as loose as I was at corner."
His newness to the position showed on Baylor's first touchdown. Platt broke open deep for a catch in the end zone, in the back right corner, the area of the field for which Defense was responsible. Instead, as Brewer's pass traveled to Platt, Defense tracked another receiver near the middle of the end zone, where another KU defensive back could have handled that threat.
"I feel like he did what he was supposed to do," Lee said of Defense's play overall this past Saturday. "Everybody has missed assignments. But you can fix that. Overall, he did a good job at safety for his first time actually playing safety in a game."
According to analysis from Pro Football Focus, Defense played 50 snaps at BU, earning a 55.1 grade as a safety and occasional corner.
When Defense first began dabbling with a different position in early August, he did so willingly because he didn't want to limit himself as a player. Now that KU needs him at that spot — it's unclear at this point how long Thomas will be out due to injury — Defense plans on making strides quickly so he won't be a liability.
"This week, with more reps, I feel like I'll be able to make more plays," he said.
KU plays host to Oklahoma State on Saturday (11 a.m. kickoff).