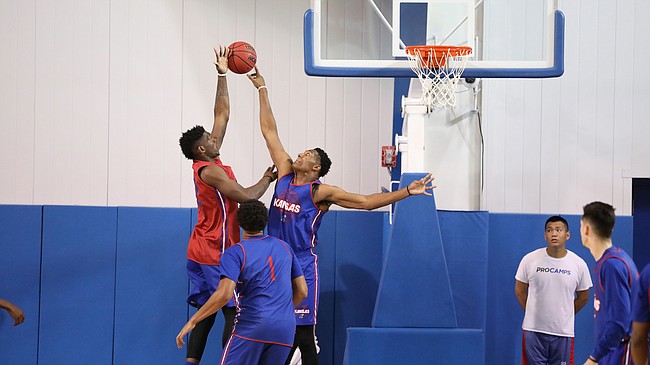 University of Kansas freshman post player David McCormack obliged when asked for a self-scout.
"I would say, I'm just kind of like a brute force," McCormack said. "I'm a hard worker. I go after every rebound, every loose ball. I run the floor. I bring whatever I can to help the team to have an impact on the game."
Kansas coach Bill Self himself couldn't have written a better job description for a big man coming off the bench.
But listening to Mitch Lightfoot break down McCormack makes it seem as if the freshman who said he is 6-foot-11 and 255 pounds will be able to do more than contribute hard fouls, hustle and rebounds.
"He works his butt off," Lightfoot said. "He has a great motor. He's gotten so much better since he's been here, too, which is kind of freaky because he already was pretty good when he got here. I feel like he's going to have a great year and you guys are going to be pleasantly surprised with him."
Nothing about how the sculpted McCormack looks or talks suggests he's a teenager. He carries himself with a maturity more typically displayed by college graduates. He seems so buttoned-up that it's hard to imagine that he's just a couple of years removed from tipping the scales at more than 300 pounds.
"The best shape of my life?" McCormack echoed a question. "I would say so. (Boot camp) really pushed me conditioningwise. It's put me in a great position physically."
You get out of something like that what you put into it. In the case of McCormack, it figures then that he took a great deal out of it.
"I think David McCormack deserves as much credit as anybody, because he's made everybody get out of their comfort zone because he tries so hard," Self said. "So you talk about leaders, David's been a terrific leader because he's made those other guys better."
Juniors Udoka Azubuike and Dedric Lawson will start up front for Kansas, and Silvio De Sousa, Lightfoot and McCormack lend the sort of depth in the front court that Self hasn't had in a few years.
Nobody has to pace himself now. Nobody has to play with fear of fouling and can make the lane a jittery, even painful, place for opponents to venture.
Most of McCormack's minutes likely will come when Azubuike is getting a breather or nursing foul trouble. Just in case, though, McCormack is ready to play with the biggest man against whom he ever has played.
"I've been working on my skill set, as well," said McCormack, whose range extends beyond the 3-point line. "I like to let Dok stay in the post and be that brutal force, and I can work on a lot of the face-up game and my court vision and be able to pass, as well, helps us extend the floor to an extent."
McCormack's moves on the block are limited, but that's the case with most freshmen.
Does he have a back-to-the-basket game?
"I would say yes, but it's in its infant stages," Self said. "He's a big guy who can score, but the way he's always scored is just being bigger than folks. So he's got to learn how to score around big guys and learn how to score over them and learn how to score before he catches, and those are things he's still working on."
Scoring could be the last thing to fall into place for him, but he has the tools to get there.
"He's got game, but he's not used to big guys guarding him," Self said. "So some baskets that he's made in the past won't be baskets moving forward. So he's got to adjust, but he's been doing well."
Having so many talented big men on the practice floor daily accelerates the improvement rate for all of them.
"Going against such athletic and strong bigs is something new I'm still adjusting to, but it's definitely helping my game," McCormack said.
So is his attitude.