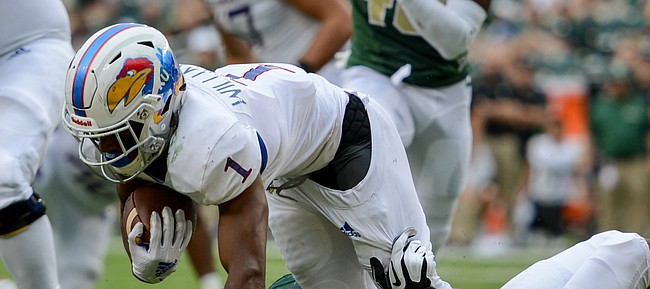 Kansas football coaches and players knew headed into Big 12 play that opposing defenses would base their schemes around stopping freshman running back Pooka Williams.
Now, the Jayhawks have experienced what that looks and feels like.
A potentially explosive playmaker in the open field, Williams mostly got smothered by Baylor defenders this past Saturday, with the exception of one 72-yard burst down the right sideline in the third quarter.
Afterward, BU coach Matt Rhule stated how proud he was of the way the Bears' defense handled KU's star freshman, noting that Williams only gained 17 yards on his 13 other carries combined.
"Yeah, we knew coming into the game that No. 1 was the heart and soul of their offense," Baylor senior defensive end Greg Roberts said. "So it was a big emphasis in practice to really get after him."
Two of Williams' first four carries lost yardage. By the end of the defeat, two other rushes went backward, as well. Just five of his carries went for more than three yards.
KU head coach David Beaty said Monday during his "Hawk Talk" radio show that the 5-foot-10, 170-pound freshman from Louisiana still made valuable plays, even if only one was executed for a long gain.
"One of the things he did was he gave us some really tough, hard runs," Beaty said.
The coach also thought Williams helped the offense with first-down carries that led to "favorable" yardage situations for extending drives.
Below are the running back's rush attempts on first-down play calls:
• A six-yard run early in the first quarter to put KU at 2nd and 4. On the next play, Peyton Bender passed to Stephon Robinson for a first down.
• A three-yard run in the second quarter. Two plays later, Williams, on 3rd and 3, rushed for four yards and a first down.
• A seven-yard rush in the second quarter to open a two-minute drill drive. Two plays later, on 3rd and 1, Terrell Bernard stopped Williams in the backfield for a loss.
• Williams' 72-yard chunk play in the third quarter came on a first down, too, and got KU inside Baylor's 20-yard line for the only time in the game. Three plays later, Bender found Jeremiah Booker for KU's only touchdown.
• Late in the third quarter, Williams rushed for two yards, but a facemask penalty provided a first down.
• On KU's first offensive play of the fourth quarter, Deonte Williams brought down Pooka Williams for a six-yard loss. Two plays later, another BU facemask penalty extended the drive.
Reviewing the footage from the defeat, Beaty said, should help Williams and the rest of the offense better understand how critical it will be every week to get the young back (averaging a Big 12-best 125.7 rushing yards per game, as well as 8.0 yards per carry) in the best situations possible. The Baylor game was only Williams' third as a Jayhawk, but it was the first in which he didn't score a touchdown.
"That guy's so dynamic," Beaty said. "If we can just make sure we focus on the details around him with our steps, our departure angles and things that you really have to focus on when you're playing Big 12 talent, you give that guy a chance to go to the house any time he has a crease."
Obviously, KU (2-2 overall, 0-1 Big 12) needs its offensive linemen, tight ends and receivers on top of their blocking assignments for everything to click.
"So our guys saw that and they understand it," Beaty said. "They're going to work really hard to support him and all the rest of the guys — because the rest of the guys can do it, too."
Two of those running backs Beaty referenced, Khalil Herbert and Dom Williams, only had two carries each at BU. Herbert picked up six yards and Dom Williams ran for two.
Kansas plays host to Oklahoma State (3-1, 0-1) on Saturday at David Booth Kansas Memorial Stadium. The Cowboys currently lead the Big 12 in rushing defense (111.5 yards surrendered per game).