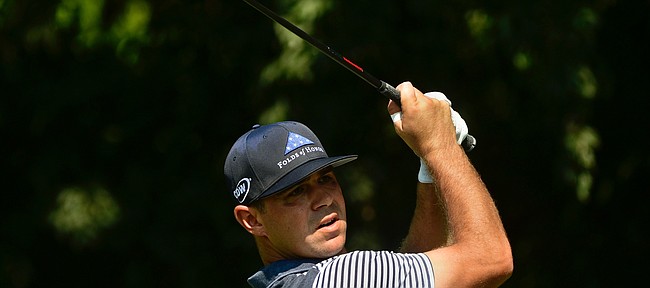 Gary Woodland finished the PGA Tour season ranked 29th on the money list with $3,108,907, 26th in the final FedEx Cup standings and is 40th in the Official World Golf Rankings.
He's done that well before, even better in 2011 when was 17th on the money list, but in many ways this felt like Woodland's best season and felt as if it's going to be a launching pad for an even better year.
For one thing, he looked less robotic with the putter at the end of the season, which he attributes to the work he has put in with English putting guru Phil Kenyon, who started tutoring Woodland at the British Open.
"He's found a way to make me feel more relaxed over a golf ball and that kind of frees me up," Woodland said during the season's final event, the Tour Championship at East Lake Golf Club in Atlanta, where he finished in a tie for 11th, seven strokes behind winner Tiger Woods.
Woodland has finished 39th or higher on the money list in each of the past six seasons and has done so without putting as well as most players on tour. Once a terrific 3-point shooter, Woodland has a similarly soft putting touch inside him. If Kenyon has found a way to bring it out of him, it's exciting to think about what Woodland can accomplish this coming season.
Woodland led the PGA Championship after each of the first two rounds and finished tied for sixth, his best finish in a major.
Late in the season, his name kept popping up on leaderboards with the biggest names in golf. If he can carry his new putting stroke into next season, he'll continue to play a lot of Saturday and Sunday rounds with golf's biggest names. One of these days, they might even show his shots on TV, instead of just his playing partners'.
His putter will be the key to enhanced air time.
"It's been kind of my Achilles' heel for a long time, and now it's starting to feel like a strength of mine, and that's pretty exciting," Woodland said of his putting. "And it's just coming together. I feel as good standing over the putter as I ever have."
Woodland said that Kenyon was the first to tell him he didn't like his putting stroke and in installments he instructed his pupil to make a number of changes, including how he grips the flat stick.
"It was moving it more into my palm," Woodland said. "I held it kind of like I held a golf club, like I hit an iron shot and he changed it more into my (palm), probably the way everybody else holds it out here. I just wasn't smart enough to do it."
Woodland never has been afraid to make changes in all areas of his game to find an edge. He has changed caddies, short-game coaches and swing coaches a few times, but seems to have settled on swing coach Butch Harmon and Kenyon.
"Grip changes are hard for a lot of people, and that's something a lot of people don't like to change," Woodland said. "But he wasn't afraid to go ahead and tell me to do it, especially in the middle of the season, and luckily he did because it's paid off."
So has Woodland's work with Harmon.
Watching Woodland playing Sunday with Woods from inside the ropes at the 100th PGA Championship at Bellerive Country Club in St. Louis, two things stood out about the most successful alumnus of the University of Kansas golf program.
First, his ability to focus on his shot and block out the world when so many in the massive gallery still were chanting, "Let's Go Tiger!" in the middle of his swing.
Second, Woodland's golf swing has become so smooth it looks as if he's barely swinging the club, yet he generates incredible power. Woodland finished the 2017-18 PGA Tour season driving the golf ball not just long but in the fairway most of the time as well.
Tiger, who was so buttoned-up around the greens, looked like he was coming out of his shoes when hitting his driver. It was an interesting contrast to see up close.
Statistics from the Tour Championship served as evidence of how far Woodland has come with the driver under the tutelage of Harmon.
Woodland finished first in driving distance in Atlanta with an average of 321.4 yards. Rory McIlroy was second with an average of 316.5 yards per drive. Patrick Reed was last in the 30-man field at 282.6.
More important, Woodland was second at the tournament by placing 67.86 percent of his drives in the fairway. He was 75th in that category for the entire season, but definitely made big strides that kicked in late in the season, so look for that number to be much better next season.
He paid dearly for driving a ball out of bounds on the first hole of Sunday's round, which led to a triple bogey. Five holes into the round, he was 5 over par and finished even by carding five birdies on the final 13 holes.
He knows how to think next shot, as he showed at the PGA where he ran into bunker trouble, carded a triple bogey on the 10th hole Saturday, and didn't let it snowball. He also had a triple at the Phoenix Open and bounced back to win his third PGA Tour event.
Some midseason tinkering that paid off at the end of the year set him back in the middle of the schedule, but it all seems to be coming together for him now.
"I'm as excited about my game as I've ever been," Woodland said.
The area of his game that in the past has been the greatest source of frustration has a lot to do with his confidence level.
"Putting makes everything better," Woodland said. "I sleep better. I eat better. Everything is better when you make putts, and that's what I'm excited about right now."