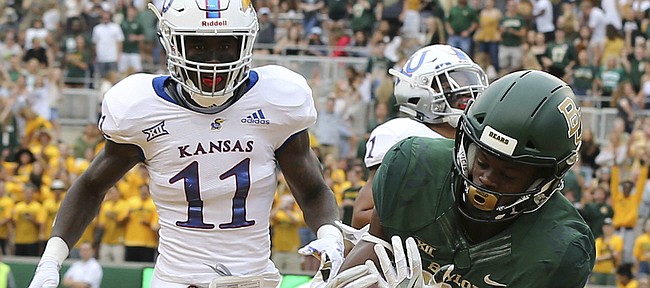 Members of the Kansas football defense figured Baylor quarterback Charlie Brewer would test their mettle in their Big 12 opener.
They left Waco, Texas, following a 26-7 defeat, understanding not only that Brewer outplayed them, but also that they have a long way to go in terms of defending talented QBs.
In the first half alone, Brewer, a 6-foot-1, 202-pound sophomore, completed 11 of his 14 throws for 151 yards and three touchdowns, and led BU with 9.7 rushing yards per attempt, picking up 58 total on the ground.
"He's a lot faster than he looks on film," KU redshirt senior linebacker Joe Dineen admitted following the loss. "He really can run. He hurt us."
Although Brewer didn't duplicate those types of numbers in the second half — 8-for-13 passing for 70 yards — the damage he did before halftime, when the Bears led 23-0, more than held up.
Photo Gallery
KU football at Baylor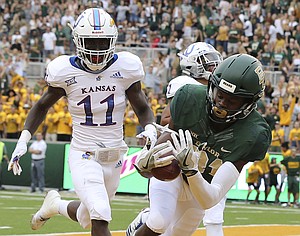 The Kansas football team opened Big 12 play with a 26-7 loss at Baylor, on Sept. 22, 2018. (Photos courtesy of Waco Tribune-Herald)
"Obviously in the first half their quarterback run game hurt us a lot," Dineen said. "Kind of all over. We knew that they were a passing (team) — could throw the ball around. So when we were in coverage the DBs did a good job of holding onto their guys. But us linebackers let them get out and run away from us, and that can't happen."
In the second half, Dineen shared, defensive coordinator Clint Bowen's adjustments included calls for various stunts up front to try and contain Brewer to the pocket.
"I'm happy with how we only let up three points in the second half," Dineen said, after KU also came away with three sacks in the fourth quarter.
Even so, Brewer's first-half success against the Jayhawks (2-2 overall, 0-1 Big 12), served as a reminder of what awaits them in the weeks ahead.
"We're going to see a lot of that in the Big 12," Dineen said, referencing Brewer's play-making ability, "and we got a little bit of a taste of it."
The bad news for KU is that Brewer is far from the best the conference has to offer. If you combine the numbers from Brewer (215.5 passing yards per game) and BU backup Jalan McClendon (85.8), the Bears' two QBs would only rank fourth in the Big 12 in passing yards.
KU still has to face Oklahoma State's Taylor Cornelius (307.3 passing yards per game, eight touchdowns, four interceptions), West Virginia's Will Grier (372.3, 14 TDs, three picks) and Texas Tech freshman Alan Bowman (389.3, 10 TDs, two interceptions) in its next three games.
"We didn't play our best today," Dineen said of KU's defense against the Bears, who produced 447 total yards. "But you've gotta give them credit because they really came out and knew what we were trying to do to them and played well."
Cornelius and the Cowboys (3-1, 0-1) visit KU on Saturday (11 a.m. kickoff) coming off a 41-17 home loss to Texas Tech. The redshirt senior completed 18 of his 38 passes in the loss, with 258 yards, one touchdown and one interception.
The OSU offense also features one of the Big 12's best rushers, junior Justice Hill (97 yards per game, 8.4 yards per carry, five rushing touchdowns).
WVU kickoff time announced
KU's next road game, Oct. 6 at West Virginia, will start at 11 a.m., the Big 12 announced on Monday.
The Jayhawks' trip to Morgantown, W.Va., will air on ESPN 2 or ESPNU.
It will mark KU's third 11 a.m. kickoff of the season.
WVU (3-0, 1-0) is currently ranked No. 12 in the AP Top 25.