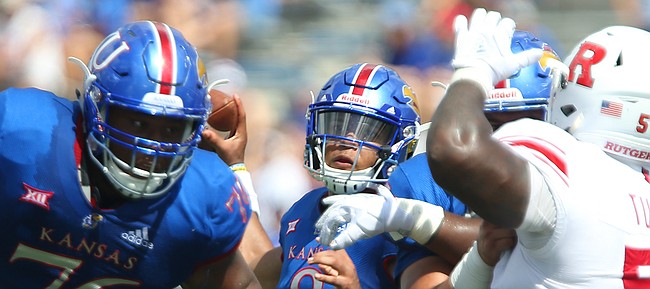 Waco, Texas — Backup Kansas quarterback Miles Kendrick left the Jayhawks' Big 12 opener, a 26-7 loss at Baylor's McLane Stadium, with an unspecified injury midway through the third quarter and did not return.
Kendrick had run on back-to-back plays for gains of 13 and 5 yards. After getting up from the second play he was rubbing his shoulder and headed to the sideline.
"He was unavailable after that play," Kansas head coach David Beaty said. "We'll get him back, get him looked at, see where he's at."
When Kansas started a drive at its 13 with 6:09 left, Beaty sent Carter Stanley in at quarterback in place of starter Peyton Bender.
Photo Gallery
KU football at Baylor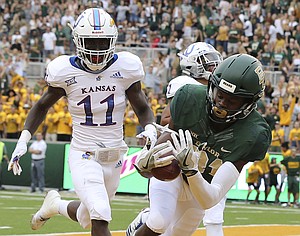 The Kansas football team opened Big 12 play with a 26-7 loss at Baylor, on Sept. 22, 2018. (Photos courtesy of Waco Tribune-Herald)
"We felt like we needed to be able to move around a little back there," Beaty said. "Carter did a nice job of being prepared when his number was called. He's been like that for three years. He was ready to go. He's worked his tail off in practice and that made him ready when he got in there. We moved the ball a little with him in there."
Ricky Thomas misses game with injury
Hasan Defense started at safety in place of Ricky Thomas, who missed the game with an unspecified injury.
"When Ricky became unavailable midway through the week that was a hit because he's a good little cover guy," Beaty said. "That one hurt a little bit, but we've got other guys who should be able to step in there and be able to do well enough."
Targeting overturned
NCAA rules dictate that every time a player is flagged for targeting, which comes with an automatic ejection, the play must be reviewed. Kansas freshman Corione Harris was flagged for targeting, but after the play was reviewed it was overturned and he was allowed to stay in the game.
More streaks
The Bears have won the past nine games in their series with Kansas, meaning Mark Mangino is the last Kansas coach to defeat Baylor.
The past six games of the series have featured lopsided first-half scores: 2018: Baylor 23, Kansas 0; 2017: Baylor 21, Kansas 6; 2016: Baylor 42, Kansas 0; 2015: Baylor 52, Kansas 7; 2014: Baylor 39, Kansas 7; 2013: Baylor 38, Kansas 0. So in the first half of the past six meetings, the score is Baylor 215, Kansas 20.
In growing its Big 12 road losing streak to 41 games, KU's record in its past 79 Big 12 games dropped to 4-75.