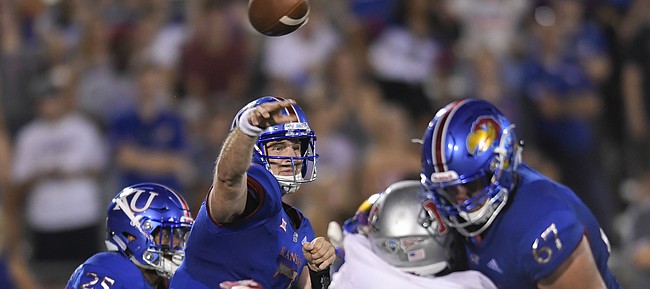 Although he watched the entire second half of the Kansas football team's home win over Rutgers from the sideline with coaches and reserves, senior quarterback Peyton Bender will keep his spot as the Jayhawks' starting QB on Saturday at Baylor.
Head coach David Beaty stated immediately after KU's 55-14 romp over Rutgers that he didn't want to say who would start at QB the following week. He provided an update on Bender's status Tuesday, during his weekly press conference.
However, Beaty also said Bender might man the spot for "one" play or "50" plays.
"We'll see how it goes," the coach added.
Speculation surrounding the job picked up during KU's nonconference finale, as backup QB Miles Kendrick handled 40 offensive snaps and Bender only took 23.
"He's a guy that brings a certain skill set to the table that helps us in his role," Beaty said after announcing Bender would start this week, too, "and then the same thing with Miles."
Kendrick played a distinctly backup role each of the first two games, before spending more time on the field against Rutgers than any other Kansas QB.
A 5-foot-10, 200-poundsophomore transfer from College of San Mateo (Calif.), Kendrick threw a touchdown pass to Jeremiah Booker and rushed for another score versus RU (1-2). Kendrick has completed 9 of 15 passes for 93 yards with one touchdown and no interceptions this season. He also has 12 carries for 43 yards and a TD. Beaty made it clear that the sophomore will remain a part of KU's offensive game plan each week.
While playing on five possessions in the first half against Rutgers, Bender completed 7 of 11 passes for 68 yards, without suffering an interception or a sack. On the season, the 6-1, 205-pound senior has completed 59.7 percent of his 72 throws for 385 yards and three touchdowns, with no picks.
In terms of playing both quarterbacks each week, Beaty said it's been "so far so good" for the Jayhawks (2-1).
"It's really been right along the line of what we had planned. We'll continue to tweak that plan if we need to," KU's fourth-year head coach went on.
Kendrick, who will experience his first Big 12 game on Saturday, in Waco, Texas, has improved enough since the conclusion of preseason camp, Beaty said, to take on a larger role within the offense. With in-game repetitions, the coach explained, Kendrick gained more trust.
"And he's really continuing to develop," Beaty elaborated. "You can see him start to get a lot more comfortable there and that's really been the plan. The plan isn't going to change for us. We have an idea how we want to approach it."
Although his playing time decreased in KU's win over Rutgers, Bender said he doesn't intend to let the team's two-QB approach impact his mindset.
"When I'm on the field," Bender said, "I'm going to try my best and play as hard as I can."
Kendrick enjoyed his extended playing time in Week 3.
"I think it was just good reps for me, good experience for me," the sophomore said. "The more tape I can watch of myself in that situation, in those situations, the better I can be. As long as I get those opportunities I'm going to take advantage of them in the film room after and just try to get myself better."