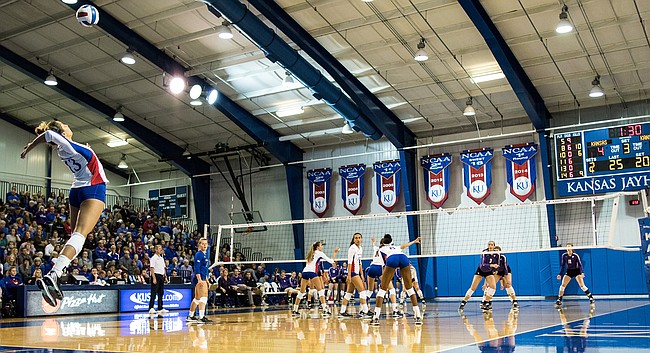 The injury-plagued career of Kansas volleyball player Patricia Montero has taken another hit.
Montero, a junior outside hitter from Ponce, Puerto Rico, who already has endured a pair of season-ending knee injuries during her time at KU (2015 and 2017), once again fell victim to the injury bug earlier this season.
Montero confirmed the news with a Twitter post over the weekend, saying, "I'm writing this with a heavy but hopeful heart. As many people know, I have been injured multiple times. Unfortunately, I went down and will have to go through surgery once again."
Montero's latest injury came after she had jumped out of the gate with 47 kills in 13 sets to open the season. With former KU All-Americans Kelsie Payne and Ainise Havili no longer on the roster, Montero was in position to step into a key spot in terms of leadership and production and appeared well on her way to embracing that role.
But then the setback hit — another knee injury during KU's five-set win over Dayton on Aug. 31 — and Montero found herself in the all-too-familiar position of wondering what would come next.
"Sometimes all you can do is the best you can," she wrote. "And I did. I gave it my all. This isn't meant to be sad because volleyball has given me so much. I've been blessed and cannot thank the coaches and the entire KU volleyball family enough for the opportunity, the friendships and the experience I thought I'd never get. It has truly been a dream repping Kansas across my chest."
It remains to be seen what Montero's future holds and she is still awaiting surgery for the latest injury.
"Don't count me out yet," the fourth-year junior said. "But I am not sure what my next step will be. Whatever it is, I'll be sure to represent Jayhawk Nation the best I can."
Added KU coach Ray Bechard: "Patricia has represented our volleyball program in exemplary fashion in every way. It is an unfortunate situation that she'll have to miss another season due to injury. She is a model student-athlete. She has worked as hard as anyone during her time here over the past three years and I know she will work diligently to come back from this and create new opportunities for herself."