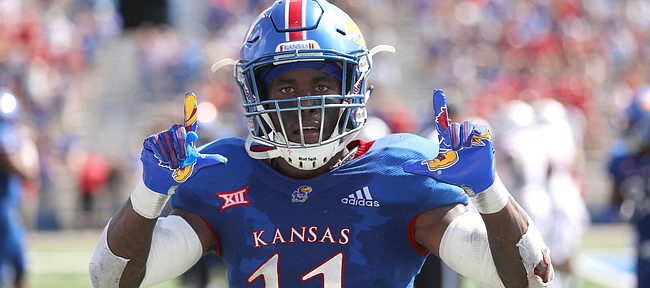 Mike Lee, third-year starter for the Kansas football team, and basketball player Marcus Garrett both are skilled at intercepting passes and that's not all they have in common. They both also happen to be big fans of Mike Lee.
Specifically, they are big fans of Lee's running back skills, even though the junior from New Orleans plays safety for the 2-1 Jayhawks.
Lee did a masterful job of cutting across the field and following his blockers en route to a 31-yard interception return in Saturday's 55-14 rout of Rutgers at David Booth Kansas Memorial Stadium.
"That's what I told him," Garrett said of Lee making a good running back. "I don't know where he got that juke move."
Perhaps from playing Madden?
"Probably Madden," Garrett agreed. "He's very good at it."
Garrett said he and Lee are "close friends," and got to know each other from taking classes together. He called Lee "very funny."
Lee was smiling, but not necessarily joking, when he said of conversations with KU coaches, "I tried to tell them I've got running back skills, but they don't listen to me. They see now."
Lee looked very much like a running back on the play, but Kansas is well stocked at that position with Pooka Williams, Khalil Herbert, Dom Williams and Deron Thompson.
He'll be needed Saturday in Waco at safety against Charlie Brewer, the Baylor quarterback who, as a freshman last season, riddled the KU secondary for 315 yards and three touchdowns, completing 23 of 29 passes in a 38-9 blowout.
Garrett will be watching Saturday from Lawrence, rooting for more than just Lee.
"I think we're playing great right now," Garrett said. "I feel like if we had Pooka the first game, we'd be undefeated right now."
Garrett said he last played football in middle school, when he was a receiver and safety.
"When I got to high school, my (basketball) coaches didn't let me play football, too," he said. "Football's actually my favorite sport."
His favorite team?
"I'm a huge Alabama fan, huge Alabama fan," Garrett said. "I once was a Texas Longhorns fan when Vince Young was there."
Frontrunner? Maybe a little of that, but he had another explanation for getting hooked on Alabama football.
"My uncle's a running backs coach and Alabama always produces good running backs," Garrett said.
The Crimson Tide have had two Heisman Trophy winners at running back during Garrett's viewing years: Mark Ingram (2009) and Derrick Henry (2015).
Garrett is giving equal love now to the Kansas football team, which, by the way, is tied for the national lead with Alabama with three interception returns for touchdowns.
"Oh yeah, big fan," he said. "One of my close friends is Mike Lee, so I definitely watch (KU) football a lot."
Perhaps getting a little ahead of myself, I asked Garrett for which team he would root if Alabama and Kansas were to meet in a bowl game.
"Ooh," he said. "I think I wouldn't even care who won that game. I'd be happy either way it goes."
That potential matchup comes from a fantasy world. Back to reality: Kansas, a football program that is 4-74 in its past 78 Big 12 football games, is headed to Waco to play Baylor, which has won its past eight games in the series by an average score of 50-13, and it's not a reach to think Kansas has a legitimate shot at an upset.
Baylor opened Sunday afternoon as a 9.5-point favorite, and within 24 hours, the betting public had moved the line to 7.5. Clearly, Pooka Williams highlights have been making the rounds, not to mention the highlight of Lee's pretty fair Pooka Williams impersonation.