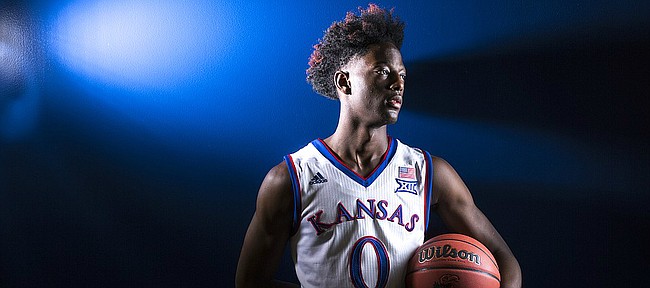 Monday was a feet-shuffling, legs-turning, lungs-working-overtime kind of morning for the members of the Kansas basketball program, who kicked off another year of Bill Self boot camp at 6 a.m. at the Jayhawks' practice gym.
And sophomore guard Marcus Garrett, now a one-year veteran of the 10-day conditioning crusade, said Monday's fun was pretty much exactly what he remembered from his first go-around a year ago.
"I didn't throw up today," Garrett said during a meeting with reporters Monday afternoon. "But I woke up about 5:30 (a.m.). I got over here at 5:40 and we had to be on the court at 6:00. Everybody was out there about 5:55."
Getting going before the sun comes up is always one of the hardest parts about the annual event. But it's particularly tricky for a player like Garrett, who said on Monday that he normally does not go to bed until around 3 a.m.
That, of course, was not the case this Sunday. Garrett said he hopped in bed about five hours earlier than normal and believed he finally zonked out about 11 p.m.
"You have to go to sleep," he said. "I usually can wake up about 9 and have energy. It's just, waking up at 5:30, the energy's just different."
Once Self and his coaching staff kick-start the conditioning, things change pretty quickly and the only clock the Jayhawks concern themselves with is the one on the scoreboard.
Sprints are run against the clock. Drills are timed to the second. And the players' flawless execution — when it comes — is rewarded with a few extra seconds of rest or fewer reps.
None of that, however, makes any of it any easier.
"It's difficult no matter what," Garrett said. "You just have to get through it. I just feel like it's mental. Once you just put your mind to it and say you can get through it, you can get through it."
Garrett said Self arrived at the gym with "great energy" and helped inspire the Jayhawks to match it. The veterans, led by senior Lagerald Vick, did the same with the young guys experiencing boot camp for the first time.
Like former Jayhawks did with him, Garrett said he did his best to try to prepare KU's newcomers for what boot camp was all about. But Garrett said no amount of conversation could accurately describe the experience.
"I was telling them, when we were running a couple sprints (last week), I was like, 'This still ain't going to get you ready,'" Garrett recalled of a conversation with a couple of KU freshmen. "They were expecting to run sprints and not be tired from boot camp. I'm like, 'Nah. No matter what you do, you're still going to be tired. It's still going to hurt.'"
As for how first-timers Ochai Agbaji, Devon Dotson, Quentin Grimes, David McCormack, E.J. Elliott, Garrett Luinstra and Silvio De Sousa performed on Monday, Garrett gave them all a passing grade.
"They responded good," he said. "I mean, they were out there learning. They were working hard. It's hard to talk while you're tired. That's the only part I feel they were scrambling on."
And that, according to Garrett, is the aspect of Self's boot camp that is hard for just about anybody, no matter how long they've been around or how many times they've been through it.
"It's hard to speak up and help others," Garrett conceded. "That's the big thing about boot camp. He (Self) just wants you to help each other out and it's hard when you're bent over and you're tired to still try to bring your teammates up."
Round 2, and another try, begins bright and early Tuesday morning.