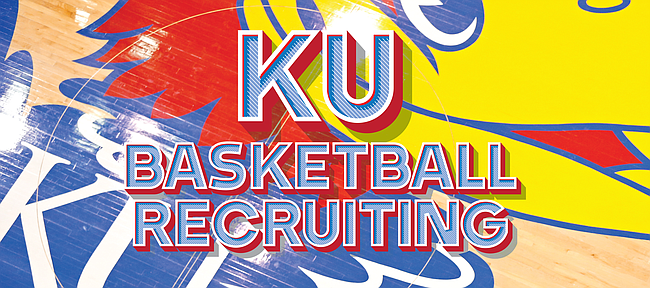 Christian Braun's opportunity to make a name for himself as a Kansas basketball player still may be a ways out.
But, according to KUsports.com recruiting insider Matt Scott, the latest KU commitment is well on his way to following in the footsteps of a former KU star who later wrote a book about the way he played.
"(KU coach Bill) Self hasn't really had anyone like him," Scott said of the 6-foot-5 shooting guard from Blue Valley Northwest who announced his oral commitment to Kansas on Monday afternoon after telling the coaching staff on Sunday night. "But I bet he gets Jerod Haase a lot. He could write 'Floor Burns 2.' They're not exactly the same kind of player, but in terms of that style and being a player who opponents are just going to hate to deal with, that's Christian."
Podcast episode
Class of 2019 shooting guard Chrisitan Braun, of nearby Blue Valley Northwest, breaks down his recent commitment to Kansas.
It's been a wild couple of months for Braun. In addition to having a stellar summer season with MOKAN Elite, Braun saw himself jump from unranked to No. 113 nationally in the Rivals.com rankings. He also received a bump from three-star to four-star status by Rivals earlier this month.
"It was pretty exciting to see all the hard work pay off," Braun told the Journal-World of his rise in the rankings. "I was pretty confident before that, but it was cool to see all of that happen, and this whole thing is a dream come true, really."
The craziness peaked on Monday evening, when Braun received texts and phone calls from dozens of people congratulating him on his big news.
Some were from Blue Valley Northwest — including 2018 Loyola-Chicago Final Four standouts Ben Richardson and Clayton Custer — and others were from his hometown of Burlington, where fellow former KU standout Tyrel Reed grew up.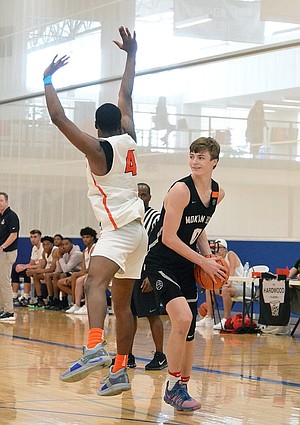 "It's been pretty crazy today," Braun said a couple of hours after a workout in front of Self. "I got a lot of texts from people I haven't talked to in a while, people from my old school, my old hometown, and everybody's really happy for me. And I'm happy. It's a great situation for me and my family and I'm really excited."
"I have not been compared to any previous Kansas players," added Braun, whose family moved from Burlington to Overland Park at the beginning of his freshman year. "But I have been a big Tyrel Reed fan. I grew up in the same town he did and his sister was my babysitter. So it's pretty cool that two guys from a small town like that ended up at KU."
According to Scott, it was Braun's versatility and tenacity, as much as his talent, that led to him landing at Kansas.
His size, style and versatility make him the perfect candidate to play either the 2 or the 3, and, if he keeps growing and reaches the 6-foot-8 height of his brother, Missouri freshman Parker Braun, some even think he could become a matchup 4 at the college level.
"I think that's one of the things that makes me who I am and people know I'll play hard," Braun said. "Being versatile is a really big part of my game, and I just try to do what I do best pretty consistently. And I think that's what's given me success."

In addition to having his recruitment locked up, Braun has set the table for a senior season that attracts a ton of attention. A year ago, when the Missouri high school playoffs rolled around, a senior in the Class of 2018 named Ochai Agbaji who committed to KU late, saw the attendance at his Oak Park High games soar after he announced his plans to join the Jayhawks.
With Braun having done his recruiting work on the front end, and with former No. 1 Kansas City-area attraction Jeremiah Robinson-Earl playing his senior season at IMG Academy in Florida instead of at Bishop Miege, it's Braun who carries the biggest name in the 2018-19 prep season.
Braun currently is the lone player in the 2019 class committed to Kansas, replacing the commitment by Chicago point guard Markese Jacobs, who pledged his services to KU two years ago, but recently moved on from Kansas and reopened up his recruitment.
It's too early to tell just how big KU's 2019 recruiting class will be, but it figures to fall somewhere in the 3-5 range, with Braun taking one of the spots.
Braun plans to unofficially visit KU for Late Night on Sept. 28 and said he likely would return for an official visit sometime during the upcoming season, perhaps for the Villanova game.
"I live pretty close," he noted. "So I plan to get over there as much as I can and see the atmosphere and all that. I'm pretty excited about that."