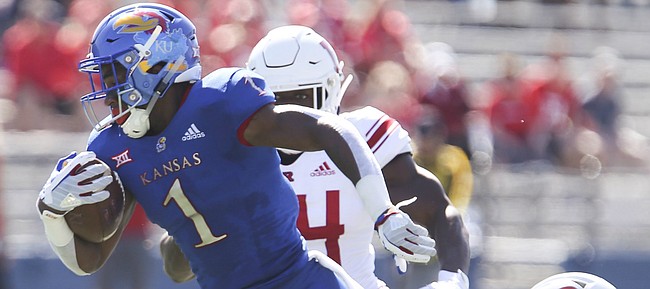 As the Kansas football team prepares to open Big 12 play this Saturday at Baylor, it does so with the conference's leading rusher residing in Lawrence, and spending most of his waking hours inside Anderson Family Football Complex.
In just two games — KU kept him out for its season-opening loss to Nicholls State for what was later described as an eligibility issue — freshman sensation Pooka Williams' 288 rushing yards put him atop the Big 12.
Even Oklahoma State junior Justice Hill, a first-team all-league performer in 2017, trails Williams at this early stage of the season. And Hill, like the other top-10 rushers in the conference not named Pooka Williams, has played in three games.
Hill, in wins over Missouri State, South Alabama and Boise State, has delivered 277 rushing yards, an 8.1 yards per carry average and four rushing touchdowns. Williams, in wins against Central Michigan and Rutgers, has amassed 288 yards, an 8.7 yards per carry average and three rushing TDs.
Photo Gallery
KU football vs. Rutgers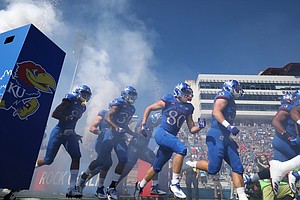 Kansas improved to 2-1 on the season with a 55-14 rout of Rutgers at David Booth Kansas Memorial Stadium on the day Todd Reesing's name joined the program's Ring of Honor.
Asked Monday during the Big 12 football coaches media teleconference if Williams had transformed KU's offense, head coach David Beaty began by crediting multiple Jayhawks for the team's consecutive victories.
"Not just Pooka, but the entire stable of backs that we have," Beaty began, referencing junior Khalil Herbert, sophomore Dom Williams and senior Deron Thompson.
"We had three backs go for over 50-yard touchdowns the other day," Beaty noted, referencing Pooka Williams (52), Herbert (59) and Thompson (55), "and we've really put a big premium on trying to find guys throughout the country who can take it to the house and finish runs. One of the things we look for on tape is guys that finish long runs. All of our dudes did that on tape. And all of them have shown so far that they're capable of taking it to the house, because it is very difficult to score points in college football. It's very difficult — I don't care who you are. It's just hard. You don't want to have to snap it again if you don't have to. That's why those home run hitters are big."
Each of Pooka Williams' three rushing touchdowns to date came with him carving up chunks of yardage — 20- and 41-yard scores at Central Michigan (0-3) and a 52-yarder versus RU (1-2).
"I mean, he does have a gear that's been extremely impressive," Beaty said. "The guy, he loves football, one of the best personalities that I've been around. I think the challenge for our staff is not to put too much on a young guy. That way he can have the success and experience he needs as a freshman."
Kansas (2-1), by far, asked more of Pooka Williams against Rutgers than it did its other backs. The 5-foot-10, 170-pound freshman from Louisiana carried the ball 18 times on the way to racking up 158 rushing yards.
Dom Williams' had the second-most rush attempts for KU, with nine carries for 39 yards. Herbert only ran twice, finishing with 64 yards. Thompson, who entered late in the game, rushed three times for 70 yards.
According to analysis from Pro Football Focus, Pooka Williams played 37 total snaps, receiving a grade of 91.3. Dom Williams played 19 snaps (61.1 grade). PFF doesn't grade performances for players who were in on fewer than 15 snaps, so there were no grades for either Herbert or Thompson.
The PFF evaluators have thought quite highly of Pooka Williams through his first two college football games. He has an overall grade of 90.9, which ranks him first among all FBS running backs, including Oklahoma's Trey Sermon (No. 2, at 88.8) and West Virginia's Leddie Brown (No. 3, at 86.8).
As he has mentioned since Pooka Williams arrived on campus earlier this summer, Beaty said KU's coaches want to make sure they don't ask too much of their explosive rusher, despite his game-breaking abilities.
"He's still a freshman, and even the best ones I've been around it's hard to put too too much on them, man. You can ruin them that first year," Beaty said. "We're going to be very careful because we think he's got a great career ahead of him. But we still can get all the production we need out of him if we just follow the model of some of the best in the country we've ever seen do it."
Baylor (2-1) ranks ninth in the Big 12, allowing 181.0 rushing yards per game.
The Jayhawks enter their conference opener Saturday at BU ranked second in the Big 12 in rushing offense (225.7), behind only Oklahoma State (257.0).
Homecoming kickoff announced
KU's next home game, Sept. 29 against Oklahoma State, will kick off at 11 a.m., the Big 12 announced on Monday.
The Jayhawks' homecoming game will air on FOX Sports networks.