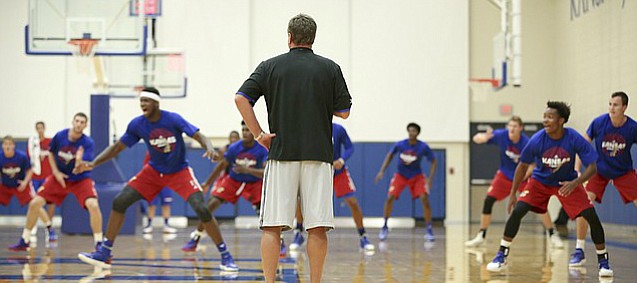 In late August, just a few weeks after the Kansas men's basketball team had arrived back on campus, KU coach Bill Self was asked a simple question.
"How has the team looked?" a small group of reporters wondered.
Without hesitating and in that self-deprecating, Self sort of way, the Kansas coach said simply, "Our conditioning's awful."
There's no doubt that the Jayhawks have taken plenty of measures in the past few weeks to change their head coach's opinion. But none of those efforts will have been as intense and challenging as what the Jayhawks will face this week, starting bright and early Monday morning.
It's boot camp time for the Kansas basketball program, the two-week conditioning grind that serves as a way to test and shape the minds of the Jayhawks as much as their bodies.
For the next 10 days, Self and his coaching staff will push this year's Jayhawks like some of them have never been pushed before.
So much of the experience emphasizes mental toughness. And in the past, flawless execution occasionally has led to shorter sessions.
"It's kind of a mental thing that we put our guys through," Self has said in the past. "For two weeks, anything goes, basically. And anything could go, whether it be 5 a.m. wake-up calls to workouts, to afternoon-type things, to if you're a minute late to tutoring, to if you're a minute late to class, anything goes."
About half of the players on KU's 2018-19 roster know exactly what that means. And while that might serve them well in preparing themselves, it won't exactly be knowledge they can share with their younger teammates. As just about anybody who ever has tackled one of Self's boot camps will tell you, one has to go through it to understand exactly what it's about.
"It's just something you can't condition yourself for," former Jayhawk Devonte' Graham said last year.
Freshmen Devon Dotson, Ochai Agbaji, Quentin Grimes and David McCormack, along with walk-ons E.J. Elliott and Garrett Luinstra will join sophomore Silvio De Sousa in going through the experience for the first time. Veterans Lagerald Vick, Udoka Azubuike and Mitch Lightfoot have been through it multiple times before. And sophomores Marcus Garrett and Chris Teahan enter this week with at least some knowledge of what it's all about.
Even transfers Charlie Moore and Dedric and K.J. Lawson were around last year to get a feel for how to survive boot camp.
"The drill work and getting their bodies in shape, getting their feet in shape and everything else, it's probably more than most have gone through," Self admitted in the past. "Of course, it's not anything that they can't get through. But they have a sense of pride when they do it together as a team, and I think it's been a great team-building experience for us."
One of the most interesting aspects of this year's boot camp centers on KU's search for a new leader. With Graham and Frank Mason III now long gone, the door is open for someone to take the leadership reins. That will be a big thing the coaching staff observes during the next couple of weeks. And aiding them in that process will be the presence of the ex-military guys from The Program, who will come to Lawrence for two days next week.
"That'll be the end of boot camp," Self said. "So we'll go Monday through the next Thursday (Sept. 27). … And our stuff will end on Tuesday."