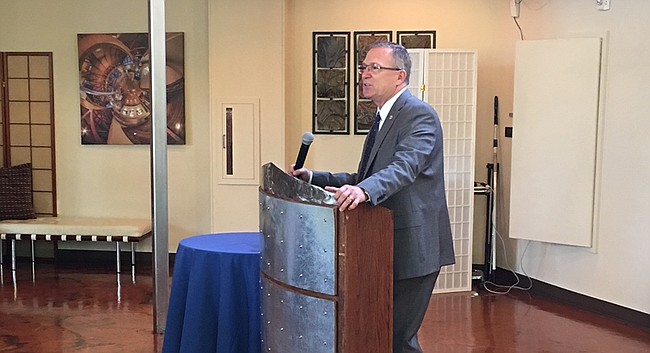 Just six weeks after coming on staff as athletic director at the University of Kansas, Jeff Long is saying that building up the football program should take precedence over a multimillion-dollar remodel of the David Booth Kansas Memorial Stadium.
"The stadium is still very important," Long said, during a question and answer session following a presentation he gave at a Chamber luncheon Friday at the Arterra Event Gallery. However, he added that KU was going to focus first on building a new program before turning its full attention to the venue where the team would play.
A year ago, the $350 million five-year campaign dubbed "Raise The Chant" kicked off with plans that included upgrades to Memorial Stadium, Hoglund Ballpark, construction of a new 3,000-seat volleyball arena and completion of renovations at Allen Fieldhouse.
The volleyball facility is due to be finished by the end of the season, Long said. The football practice facility is due to be finished next spring.
"I am not sure where the campaign is," Long said. "But we need to raise funds for coaches to go out and recruit the players who would build the team. There are things missing in our program — that is going to take resources."
Long said the university "sent a message" when it brought in KU head football coach David Beaty at a salary of $600,000 when coaches at Texas and Texas A&M; were getting $3.5 million.
Beaty has since received a contract extension, which doubled his annual salary beginning in 2017, with that amount increasing by $100,000 each year he remained at KU, the Journal-World reported in December 2016.
"It sent a message we don't care about football," Long said. "We dug a hole — I don't know the reasons — but we need to dig out of the hole. "
As he spoke about the football team, Long said he was excited about Saturday's game against Rutgers University. Last weekend KU beat Central Michigan, 31-7, breaking a 46-game, nine-year losing streak on the road.
"We have a chance for a winning streak," he said, holding up two fingers. "It only takes two games for a streak."
Long became emotional as he spoke about KU's team.
"The football players are working extremely hard to win," he said, pausing to compose himself. "I get emotional, I apologize. They want to win so badly. I want people to come out and support them."
Long suggested the community could do its part by coming to football games, buying season tickets, hanging the KU flag outside their businesses.
"As the football program gets stronger, we will drive people to the (football) community," Long said. "It's already happening with basketball."
Long told the packed room of chamber members that he wanted the student-athletes from the 18 sports at the university to partner with the community.
"Sometimes we are characterized as always taking from the community," Long said. "We want to be partners."
Related stories
In September 2017, when KU announced plans to build $350 million in new facilities, primarily for football, it marked the beginning of one of the biggest financial bets the program has ever made. The Journal-World decided to study the financial books, talk to leaders and give readers a better understanding of the money game that is constantly a part of big-time college athletics. These are the resulting stories from spring 2018.
• April 29 — A look at the finances of Kansas Athletics: Rising revenues, soaring costs, big bets
• April 29 — KU basketball saves athletic department budget, allows leaders to dream of 'blue sky potential'
• May 6 — KU football ticket sales down about $6 million per year; some question whether $300 million in new facilities will help
• May 13 — Administrative salaries jumped by 42 percent in a single year at Kansas Athletics; KU salaries top K-State's
• May 13 — How much does KU spend on athletics? More than the city spends on police, fire and roads, but returns are big too
• May 20 — Girod: Athletics important to KU, but there is a "disconnect" too
• May 20 — Should KU be worried about getting dumped from a Power 5 Conference? The financial stakes are huge
• May 22 — Rock Chalk Park started as $39 million deal for KU; now it may top $100 million after KU allowed lease to be changed