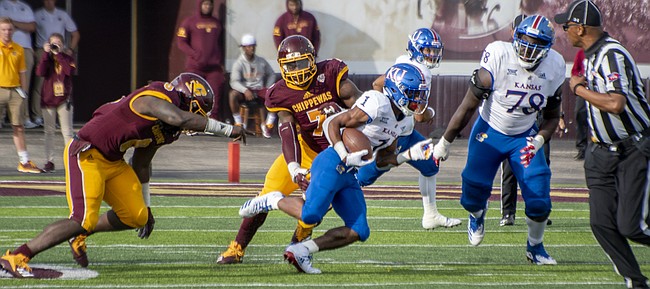 — Kansas (1-1) vs. Rutgers (1-1) • 11 a.m. kickoff at David Booth Kansas Memorial Stadium • Game-time forecast: 82 degrees, mostly sunny, 7% chance of rain • TV: FOX Sports Net • Radio: KLWN, FM 101.7 / AM 1320
— Log on to KUsports.com for our live game blog and follow our coverage team on Twitter: @KUSports, @BentonASmith, @TomKeeganLJW and @SJacksonLJW
Keys for Kansas
1. Embrace Pookamania
Considering a program that spent nine years always losing in games outside of Lawrence actually won on the road in Week 2, Kansas should stick with what worked in its victory at Central Michigan. The Jayhawks' rushing attack — and freshman back Pooka Williams in particular — made snapping a 46-game road losing skid possible.
KU (1-1) only asked senior quarterback Peyton Bender to throw the ball 26 times at CMU. The Jayhawks' trio of running backs, led by Pooka Williams' 125 yards and two touchdowns on 14 carries, combined for 33 rushes and 186 yards — sophomore Dom Williams provided 32 yards on 10 carries and junior Khalil Herbert added 29 on nine.
Add four late-game Deron Thompson runs for 32 yards, four QB runs for 14 yards by backup Miles Kendrick and even a reverse for just one yard by receiver Kerr Johnson Jr. and Kansas dialed up 43 run calls for 233 yards (5.5 yards per play) compared to 27 passes (Kendrick completed his lone throw) for 145 yards (5.4 yards per play).
Podcast episode
Following the Kansas football team's trip to Central Michigan, which included not only the end of the Jayhawks' 46-game road losing streak but also the highly anticipated debut of freshman running back Pooka Williams, KU football beat reporter Benton Smith leads a discussion on how Williams' 125-yard, two-touchdown performance shapes ...
KU's 216 net rushing yards at CMU easily gave the team its best ground performance since going for 367 in a home loss to West Virginia to open up Big 12 play in 2017.
Incorporating Pooka Williams into the offense isn't just an easy decision, it's one that gives the Jayhawks confidence offensively.
"I think whenever you're doing something and you become a little bit more successful with it, obviously you want to keep doing it," Beaty said of the players' interest in running the ball. "Now, a lot of it goes to the guys up front. They did also do some good things Saturday, as well. I don't want you to misunderstand it. But I can't say enough about the guys on the perimeter, because when you have long touchdown runs, it's always attributed to receivers on the right guys chasing shoulders all the way down the field."
The big-play ability of Pooka Williams, Beaty added, isn't possible if linemen and receivers aren't invested in run-blocking.
"The one that went up the middle," KU's coach said of a 20-yard TD run, "we had four guys get body blows on that play, and that's how it happens, right? Those turn into scoring blocks. And you take one guy that takes a play off and that guy gets tackled."
KU proved it can roll offensively against a MAC team. Now the Jayhawks have to replicate that type of showing against a Big Ten opponent, Rutgers (1-1).
2. Don't let the freshman QB get comfortable
One of seven projected underclassman offensive starters, RU freshman quarterback Artur Sitkowski is expected to play versus Kansas, despite suffering a right shoulder injury seven days earlier while being sacked at Ohio State.
In the Scarlet Knights' season opener, a 35-7 win over Texas State, Sitkowski went 20-for-30 through the air, in his first collegiate start, passing for 205 yards and a touchdown. But when he takes the field at KU, he'll be throwing with the same shoulder that he hurt a week ago and coming off a 6-for-18 showing at Ohio State, that included only 38 yards an an interception.
A four-star recruit and rated the nation's No. 9 pro-style quarterback by ESPN, the 6-foot-5 Sitkowski could give KU trouble if he is able to pass without pressure early and develop a rhythm.
Through two games, KU only has two sacks and two quarterback hurries, and none of them have come from defensive linemen. Either redshirt senior defensive tackle Daniel Wise will have to dominate up front and change that trend or defensive coordinator Clint Bowen will need to keep cooking up ways for linebackers such as Joe Dineen, Keith Loneker Jr. and Kyron Johnson (who plays a hybrid D-line/linebacker position) to get into the backfield and disrupt Sitkowski, playing in just his third collegiate game.
3. Capitalize on good field position
While KU won convincingly, 31-7, at CMU, the Jayhawks actually left quite a few points on the board.
Three times during the rare road victory, KU began a drive in Chippewas territory, and those possessions combined provided a total of three points — senior kicker Gabriel Rui hit a 36-yard field goal after the offense went backward on a drive that began at CMU's 7-yard line.
All three of those relatively fruitless drives began in great position due to a defensive takeaway.
"When we are able to capitalize and get turnovers, we've got to capitalize offensively and put those things in the end zone," Beaty said. "We weren't able to do that last week. We had two missed field goals on turnovers that were within striking distance and that's not OK."
Early in the third quarter Rui missed a 39-yard attempt in the wind to conclude a series that opened 24 yards away from the goal line.
"We had two field goals. We missed one and made one. We've got to be able to score touchdowns," Beaty said. "We love Rui, but we hate field goals. We love touchdowns. And he's got to be there to take care of it when we don't get it done. But we want to see less of him and more of him on extra points."
If Rutgers mistakes put KU's offense in favorable spots, the Jayhawks will have to deliver.
"And that's a big emphasis as we move forward this week, because as we saw the video, it was all us," Beaty said of the offense's failures following defensive takeaways. "It really didn't have a lot to do with the opponent."
Mega Matchup
Kansas O-line vs. Rutgers defensive front
Some of Rutgers' most experienced playmakers line up within the defense's front seven.
Especially with KU likely relying on its rushing attack, KU's offensive line will have to prove it can hold up against linemen and linebackers who have succeeded in the Big Ten.
Redshirt senior defensive end Kevin Wilkins leads the active roster with 12 career tackles for loss, and is one of four RU players who has played in all 38 games since 2015.
Senior linebacker Trevor Morris finished second in the Big Ten and 18th nationally with 9.8 tackles per game in 2017, and is the league's leading returning tackler. In Week 2, Morris made a game-high 11 tackles, including a sack, at Ohio State amid a 52-3 road loss.
Senior linebacker Deonte Roberts made 104 tackles a year ago, with 79 against the run. Roberts' 8.7 tackles per game ranked fifth in the Big Ten and 43rd nationally.
Wilkins, Morris and Roberts will be gunning to outperform a KU offensive line that often rotated its guards and center at CMU, while tackles Hakeem Adeniji (left) and Kevin Feder (right) played most of the snaps.
Beaty described himself as "excited" about KU's ability to rotate interior O-linemen in and out in Week 2.
"Because I think we have some depth there. I think we have guys that are comparable. I don't think that we have a big drop-off when we have the second group go in, really across the board, which was good," KU's fourth-year coach said. "I'm not sure that we have a bunch of elite guys, but I think we have a bunch of dirty work guys that you can get the job done with when they believe in that."
Alex Fontana started at center in Week 1 but was replaced by Andru Tovi at CMU, where Fontana played as a reserve. Malik Clark (left) and Dwayne Wallace (right) started at guard and were backed up by Api Mane and Chris Hughes.
"But I will say this, we gotta get better in that area," Beaty added of the O-line. "I mean, that's an area that, if we can improve that, we've got a chance to be pretty good on offense. But we don't have a whole lot of time to get it right. We've got to get it right starting now."
Rutgers has 16 tackles for loss and five sacks through two games, having five and two in the those categories at the same point last season.
Jayhawk Pulse
It isn't often that KU players and coaches get to prepare while riding the high of a victory. This week the Jayhawks did just that leading up to a truly winnable home game against a Power Five opponent. Those don't come around very often, either.
With palpable momentum — at least by KU standards — and the knowledge that Big 12 play is right around the corner, KU needs a win in its nonconference finale to take another step toward showing it can be competitive in league play for a change. A loss, on the other hand, might have the potential to send the season into a tailspin, because every opponent left on the schedule projects to be better than Rutgers.
Tale of the Tape
KU ….. RU
KU run D vs. RU run game √
√ KU pass D vs. RU pass game
√ KU run game vs. RU run D
KU pass game vs. RU pass D √
√ Special teams
Prediction
Rutgers 24, Kansas 23