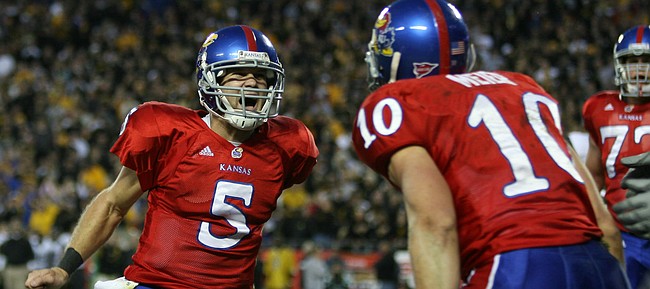 Back when he was a high schooler at Lake Travis, in Austin, Texas, Todd Reesing had a difficult time convincing college football coaches he could play quarterback for them.
The mobile but undersized gunslinger was the 4A Player of the Year as a junior and Central Texas Player of the Year as a senior. But as he pitched his highlight footage to various high-major programs it seemed Reesing kept hearing the same types of lines.
"Well, we want to see you throw in person."
"You're not that tall."
"Your arm's not that strong."
Confident nonetheless, Reesing told himself: "Yeah, I know that. But do you think I can play or not?"
Fortunately for the University of Kansas football program, Mark Mangino thought he could.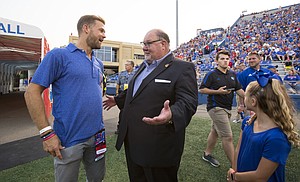 Speaking with reporters Friday inside Anderson Family Football Complex, on the eve of his name going up inside David Booth Kansas Memorial Stadium on the Ring of Honor, the now legendary Jayhawk recalled his first visit to the Sunflower State.
The recruiting trip actually brought him roughly 90 miles west of Lawrence, to Manhattan. Before coach Bill Snyder briefly retired, Kansas State became the first program to offer Reesing a scholarship, so he went to check out the Wildcats' facilities and meet their coaches and players.
It so happened that before he ventured north from Texas Reesing also sent, through the help of several connections, some video highlights to then-KU coach Mangino. While Reesing was in Manhattan, he recollected, Mangino reached out to him and invited him to visit KU.
"I came in and met with Coach Mangino and he actually offered me that day on the spot," Reesing remembered.
"I think that was kind of really what sold me," he admitted. "Him having that confidence regardless of what my size was."
Listed at 5-foot-11 and 200 pounds as a senior in KU's 2009 media guide, Reesing would leave the program with a KU-record 11,194 career passing yards (nearly 5,000 more than second-best Frank Seurer), 90 touchdown passes, 18 300-yard passing games and 11 other program records.
When KU announced this past summer Reesing would join its Ring of Honor, Mangino was one of the first people to call the former QB, who now works for Dimensional Fund Advisors, in his hometown of Austin, Texas.
Presently more than a decade removed from helping KU improbably win the 2008 Orange Bowl to cap his sophomore season, Reesing thinks the entire recruiting process leading up to his decision to sign with Kansas ended up doubling as his personal fuel.
"I think I had a chip on my shoulder for a lot of reasons. Not being recruited, wanting to prove people wrong," Reesing said. "But more than anything I just wanted to win."
Current KU head coach David Beaty, a receivers coach on Mangino's staff during Reesing's final two seasons, had the honor of revealing to the program's wildly successful QB that his name will be on permanent display inside the home of KU football, a disclosure Reesing described as "breathtaking."
Beaty said he still brings up Reesing as an example while addressing his Jayhawks.
"Todd is a guy that has exemplified really kind of what it means to be a great Kansas football player. And that's just a hard-nosed, blue-collar, underestimate you and I'm not going to worry about that, I'm going to play with a chip that is only driven by me being better and me being better for Kansas," Beaty said. "And that's the thing I always loved about Todd, he was always about our team."
Reesing's competitive nature, the coach added, made him unique.
"I mean, we used to go throw the ball around on Friday for about five minutes and he would go play receiver every week," Beaty related. "And, man, he would get pissed if he didn't get open and make the catch. He's just a competitive dude. He really is. The really high-level ones, they're like that."
During a ceremony between the first and second quarters of KU's home game against Rutgers (11 a.m. kickoff) Reesing's name will be unveiled. He will join former teammates Chris Harris Jr., Anthony Collins and Aqib Talib, as well as Gilbert Brown, Nolan Cromwell, Bobby Douglass, Ray Evans, John Hadl, David Jaynes, Bruce Kallmeyer, Curtis McClinton, Mike McCormack, George Mrkonic, Willie Pless, Gil Reich, Gale Sayers, Otto Schnellbacher, Oliver Spencer, John Riggins and John Zook in Kansas football's Ring of Honor. Larry Brown will be inducted on Oct. 27, during the TCU game.
According to Reesing, his advice to current KU players includes taking pride in the opportunity in front of them.
"That's not something that you should take for granted. I think they all know how much of a privilege it is to play college sports and not a lot of people get to do it," Reesing shared. "So I think you take that and the fact that you get to go out and play the sport you love. I think that more than anything is why you do it. … You put so much time and effort into it. You spend the better part of your year doing things that are not that much fun. Like, 'Do I really want to go squat in the weight room?' 'No.' But I have to because I want to play football.
"There's a lot of tradeoffs, so when you get those opportunities to play," he said, "you want to put yourself in the best position to win."
During Reesing's three full seasons as a starter, KU went 25-13 and won both the Orange Bowl and Insight Bowl.