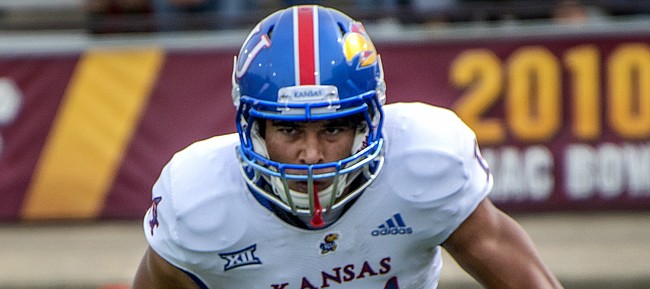 Around the Kansas football team's facilities it's easy for Kerr Johnson Jr. to go unnoticed.
The senior receiver's head coach, David Beaty, jokes he sometimes needs to hold a mirror under Johnson's nose to ensure the calm and quiet California native is in fact alive.
No such concerns exist when the 5-foot-11, 193-pound Johnson is running routes for the Jayhawks. Owner of two of the offense's five touchdowns entering Week 3, the former Santa Rosa Junior College standout has proven to be a vibrant component for KU so far this season, at times saving the offense from taking on a corpse-like state.
"On the field I'm more emotional or more active, I guess," Johnson said, sporting a low-key grin.
Podcast episode
Following the Kansas football team's trip to Central Michigan, which included not only the end of the Jayhawks' 46-game road losing streak but also the highly anticipated debut of freshman running back Pooka Williams, KU football beat reporter Benton Smith leads a discussion on how Williams' 125-yard, two-touchdown performance shapes ...
Through two games, Johnson's seven receptions put him one away from tying his junior season 12-game total of eight. During the Jayhawks' victory at Central Michigan, he eclipsed his 2017 receiving yardage total of 92.
With a team-best 122 yards and a 17.4 yards per catch average, Johnson, according to his quarterback and one-time roommate, Peyton Bender, has become "the epitome" of a consistent target.
"We saw it all throughout fall camp, throughout summer workouts and spring ball," Bender said of Johnson's offseason. "He's just a guy you can count on. He's a guy that runs his routes in practice like he runs them in a game. He's just where he needs to be when the ball is thrown. Knowing that as a quarterback, you have a lot of trust in a guy like that. You can trust him to be in spots and make the plays when the ball comes."
Obviously that wasn't the case during his junior year at KU.
"It took me a little bit to get here," Johnson admitted. "Last year I didn't know the offense as well as I do now. I think just watching film and continuing to get reps is what helped me do that."
The hours and repetitions that dominated Johnson's nine-month offseason began to prove their worth in Week 1. He delivered his first TD as a Jayhawk in the fourth quarter against Nicholls State, giving his team a brief lead in the final regulation minutes of what proved to be an overtime defeat.
The 15-yard score, one Beaty has praised during media sessions a few times since, could have ended as soon as Johnson secured Bender's throw, because his defender was right there, too, at the moment.
"I mean the run in the first game by him, that's a big-time run. He stiff-armed a guy, stayed on the move," Beaty said. "He made a very difficult catch running across the middle. It looks easy, but, man, it's one of the hardest things to do in football is to catch a slant on the move. It's just very difficult. He negotiated it well. And he runs really well after the catch."
While Johnson lived up to his nickname, "The Blur," on the TD, he maintains all that went into it was making a routine play and reacting.
"I just caught it first and then the next thing I was thinking about was just the first guy. And then once I'm done with him I move on to whatever's next," Johnson said. "You don't really look at it as a whole. It's just step by step."
During his four-catch, 68-yard afternoon at CMU this past weekend, Johnson had no defender to worry about on his 31-yard, second-quarter TD catch, which put the Jayhawks (1-1) ahead for good.
How did he get so wide open? Well, Johnson reluctantly admitted, a linebacker drew him on a man-to-man assignment and it turned out to be a mismatch in the speedy receiver's favor.
Thus far, KU's offense has spread the wealth in the passing game, with 14 different players making at least one reception. Johnson is off to a better overall start than any KU receiver, with seven catches for 122 yards and two touchdowns entering this week's matchup with Rutgers. Senior Steven Sims leads the team with eight receptions, but trails Johnson otherwise, with his 59 yards and one TD.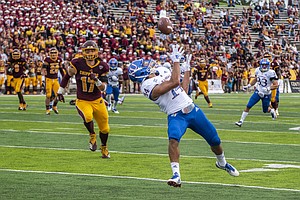 Johnson attributes his individual gains to the work he put in with Sims and all the other members of their position group.
"During the whole offseason we really just emphasized working hard and getting there early and staying late and doing stuff on our own, just doing whatever we could to put ourselves ahead," Johnson said.
Though the senior takes satisfaction in his statistical contributions to date, he insists KU victories mean more to him.
"I'm happy to help any way I can, whether that's blocking or clear routes or whatever it is," Johnson said.
Beaty might not hear much out of the receiver around the football complex, but he is glad to have Johnson making such a noticeable impact on the field.
"Man, he's one of those dudes that you better pay attention to because he can run," Beaty said. "And he's a guy that he just does it right. He does it right."