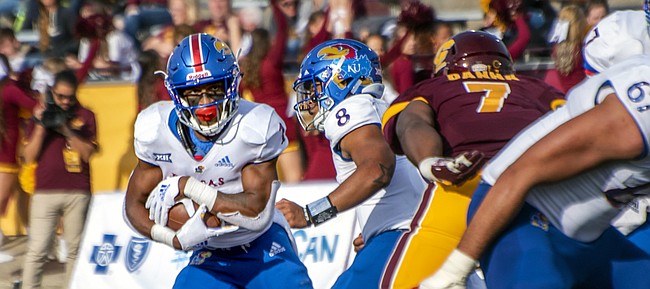 Some mystery still surrounds what kept the Kansas football team from playing Pooka Williams Jr. in its season opener.
But head coach David Beaty said Monday morning the freshman running back who raced to 125 rushing yards and two touchdowns in his debut will be back in action this Saturday for the Jayhawks' home game versus Rutgers.
"He's available and we expect him to compete this weekend," Beaty said during his appearance on the Big 12 football coaches media teleconference. "So he'll be ready to go. He's healthy and ready."
Though there had been no public indication during preseason camp that Williams, a four-star talent in KU's 2018 recruiting class, would miss any games, the team announced shortly before its Sept. 1 debut against Nicholls State that Williams would not play due to an undisclosed nondisciplinary reason.
Why couldn't KU play him in what turned out to be a home overtime loss?
"I can't speak to that," Beaty said, sticking to the stance he took on the matter at Central Michigan this past weekend, after Williams helped the program put an end to its 46-game road losing streak.
Williams averaged 8.9 yards on his 14 carries at CMU, with a personal best of 41 yards. Listed at 5-foot-10 and 170 pounds, the freshman from Marrero, La., also caught a pass for 8 yards in his college debut. The Big 12 on Monday announced Williams won its Newcomer of the Week award.
The running back's teammates learned hours ahead of the win at CMU that Williams would be available.
Asked afterward if the news excited the team, redshirt sophomore offensive lineman Malik Clark replied with a a grin and a two-word answer, "Of course," which he quickly repeated three more times.
"It's Pooka Williams. We need him on the field," said Clark, who started at left guard. "I mean, obviously, with the showcase he put on today, I was really excited when I heard he could play."
Given his status as a true freshman, his size and the potential for collisions that comes with playing running back, KU coaches have said that, since Williams joined the program this summer, they would have to see how much he could handle in his first college season.
Asked Monday whether that monitoring would include a snap count for the electrifying back, Beaty said he and his staff always aim to "be smart" with the youngest players.
"And we always want to make sure they're prepared and ready to handle the rigors that go along with playing a bunch of plays," Beaty added.
KU's fourth-year coach said he learned that approach while working for Kevin Sumlin at Texas A&M; and hearing about its importance from others in the profession.
"You've got to be careful with young players. You can ruin them quickly if you're not careful. We obviously want to make sure that we're careful with him and our plan will adjust accordingly to how mature he is and how much he's able to handle," Beaty said. "So far, he's shown that he can handle quite a bit."
Dineen also honored
KU nabbed two of the Big 12's weekly football awards thanks to Williams and one of the team's elders, redshirt senior linebacker Joe Dineen.
Dineen won the conference's Defensive Player of the Week award after his 14 total tackles (eight solo) and interception helped KU's defense limit CMU (0-2) to 280 yards in a 31-7 Jayhawks road win.
The awards mark the first conference weekly honors for the Jayhawks this season and are the first since Oct. 30, 2017, when Steven Sims Jr. earned Co-Offensive Player of the Week honors. Dineen was the last Jayhawk to earn a Big 12 Defensive Player of the Week nod, doing so last season. With Dineen and Williams picking up awards this week, it marks the third straight season multiple Jayhawks have been recognized with weekly conference honors.
Dineen's Big 12 Defensive Player of the Week honor marks the 17th for the KU football program, while Williams' Newcomer of the Week is the first for KU since the award's inception in 2016.