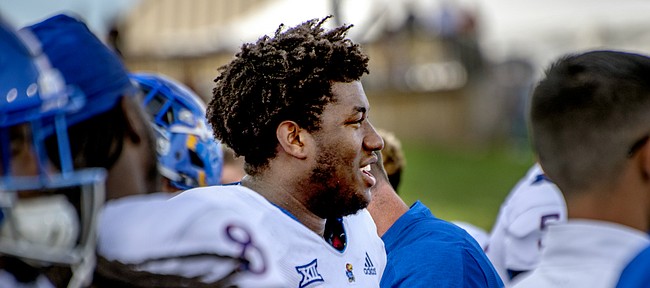 In their four-plus years as members of the Kansas football program, redshirt seniors Daniel Wise and Joe Dineen have experienced more losses than they'd ever care to recall.
So many times, the defensive standouts set their minds on carving out ways to bounce back, and far more often than not, those endeavors ultimately didn't produce the victories they kept chasing. However, Wise shared Saturday in Mount Pleasant, Mich., following the Jayhawks' 31-7 win at Central Michigan, that it seemed to him right after KU's Week 1 loss to Nicholls State that their latest rebound attempt would prove different.
"Yo, this is not what we came here — myself, Joe — that's not what we came back here for," Wise recalled of his raw reaction to KU dropping its home opener to an FCS team.
Those emotions alone made KU's win at CMU significantly meaningful to Wise, a defensive tackle, and Dineen a linebacker. Throw in the pride they were able to take in helping put an end to the Jayhawks' unappealing 46-game road losing streak (49 consecutive defeats outside of Lawrence, when counting neutral site contests) and the weekend trip to Kelly/Shorts Stadium quickly became a memorable one for the team captains.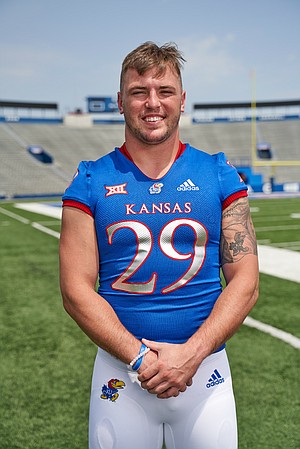 Prior to Saturday, Wise played in 16 KU road defeats, from 2015-17, without ever leaving the field a victor. Dineen lived through the streak even longer, playing in 17, from 2014-17, when including his injury-shortened 2016 season.
Despite prolonged first-hand experience in KU's road woes, Dineen said he never doubted that his college career would come to a close without him helping the program bury the streak.
"You know, obviously, you really go into every game expecting to win it. And when that didn't happen, it got to be a lot and stuff like that, but we kept fighting," Dineen said. "Coach (David) Beaty kept pushing us to keep our head up and keep going and focus on the next game. But I feel like we finally got it done."
As alluded to by Wise, both he and Dineen explored leaving KU early this past winter for the NFL draft before returning for one final season. Dineen, whose 14 total tackles at CMU put him in double digits for the 17th game in his career, said the scene inside the winning visitors' locker room, which included yelling, dancing and Dineen presenting the game ball to his embattled head coach, is one memory he expects to carry with him permanently.
"Coach Beaty's face. It's just pure happiness," Dineen shared. "And it's something we've been striving for here for a long time. So it's nice to finally get it."
The win, of course, only improved the Jayhawks' record to 1-1, but Wise admitted the program's recent history made the final moments of the fourth quarter meaningful.
Photo Gallery
KU football at Central Michigan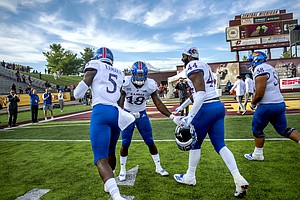 The Kansas football team broke a 46-game road losing streak with a 31-7 victory at Central Michigan, on Sept. 8, 2018, at Kelly/Shorts Stadium, in Mount Pleasant, Mich.
"It feels great just to be actually winning in a game going into the final seconds," Wise said. "It was just hugging on each other and throwing water at each other, all of that stuff. Everybody was embracing everybody."
As if the result itself wasn't momentous enough for Dineen, the road win over the Chippewas (0-2) also featured a third quarter interception by the linebacker.
"I was so excited that I caught it that I tripped," Dineen said of a takeaway that led to a touchdown for the offense. "So I didn't really see anything but the grass when my face went down. It was my first career interception, so I was pretty excited about that."
Just the thought of the pick and Dineen's short-lived return that ended without him getting tackled provoked laughter from his cohort, Wise.
"He was so happy he couldn't even feel his feet, I guess," the defensive tackle said. "But it was fun. It was fun."
The elation of the moment, Dineen confessed, got the best of him.
"If I get another one," Dineen added, "I might crib it. So we'll see."
For all the satisfaction that accompanied the Jayhawks' win at Central Michigan, Wise and Dineen now must make sure they and their teammates build on what felt like an impactful win, ahead of KU's nonconference finale, this coming Saturday versus Rutgers, at David Booth Kansas Memorial Stadium (11 a.m. kickoff).
When asked after the CMU win by a television reporter if he had a message for KU fans, Wise replied: "Just hope you guys show up for Rutgers. We've got some more energy and some more wins. Let's do this."
Dineen up for weekly honor
Following Dineen's stellar showing at CMU, he became a nominee for the Week 2 Lott Impact Player of the Week.
The redshirt senior linebacker from Lawrence is one of nine defensive players up for the honor, which is decided by both a panel of voters and an online fan vote.
Fans can vote for Dineen at the Lott Impact Trophy website. Voting ends at 7 p.m. Monday.