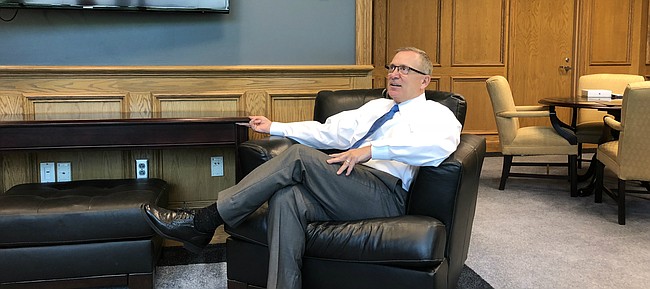 A pair of curious substitutions that took starting quarterback Peyton Bender out of the game, as well as ill-timed timeouts, repeated troubles with the snap from center, a drop in the end zone by the team's best receiver, Steven Sims Jr., and several other tough moments during Saturday's season-opening loss to Nicholls State cranked up the heat on fourth-year Kansas coach David Beaty's seat.
It's not that Beaty has lost two games to an FCS opponent. Even Washington State's Mike Leach, a big success everywhere he coaches, has done that. It was more the how of the 26-23 overtime loss than the loss itself.
Also, given that the outcome dropped Beaty's record to 3-34, I thought it fair to ask him if he received any feedback after the game from Mike Vollmar, senior associate athletic director for football and Athletic Director Jeff Long's first hire.
"No," Beaty said. "I've never met with an administrator after the game. I mean, they're very supportive after the game. Yeah. I mean, both him and Jeff were there. They were with us in the locker room. Very supportive guys."
I worded the question poorly and should have asked "since the end of the game," instead of "after the game," but it did lead to an interesting answer.
Beaty said he views his two bosses as supportive, but it's always better to hear it from the boss' mouth.
Long was unable to accommodate my request, and others from local media members, for an interview Tuesday afternoon, but did release through spokesman Jim Marchiony an answer to questions regarding his level of support for the coach he inherited from predecessor Sheahon Zenger.
The statement: "We all expected a different outcome Saturday but I continue to support our student-athletes and coaches and ask all Jayhawks to do the same. Our evaluation of the program is ongoing without a predetermined timeline."
Let's break it down. Long subtly informed us that he saw what the rest of us saw Saturday. His eyes weren't lying any more than the rest of ours were. He basically let us know he didn't expect to have to deal with this as early as Sept. 1 at 10 p.m. He asked for patience, yet also let everybody know that he's on the case. And, by the way, if you would like to show up for the Rutgers game, that would be much appreciated.
Here's the challenge for Long: Supporting student-athletes and coaches at the same time isn't always possible. There comes a time when the best way to support football players is to give them a leader better at coaching football.
Still, it's always best to have your next move down pat before making your first move. Long, like his boss, Chancellor Douglas Girod, strikes me as heedful, not the least bit impulsive.
Not having a predetermined timeline is smart because life is a series of adjustments. For example, if KU upsets Central Michigan and ends its 46-game losing streak Saturday, the understandable fury of the fan base, at least from those still engaged, could subside enough for a decent number of football fans to decide to go to the Rutgers game to see Todd Reesing's name go up on the Ring of Honor and give him the thunderous ovation that he deserves. Seriously, don't you think Reesing provided enough thrills to merit seeing a big crowd, all eyes on him for a moment, one more time at renamed David Booth Kansas Memorial Stadium?
And if the road losing streak grows to 47, the overall skein to 13, and it happens in unsightly fashion, the absence of a predetermined timeline means Long can appoint an interim head coach and free Beaty from a job for which he is not suited.
Of course, it's always possible a permanent head coach could be hired in mid-season, but schools usually go the interim route and fill the top seat with someone from within the program.