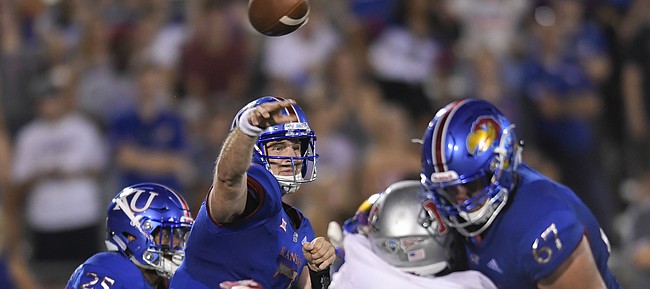 In its first game of the season, the Kansas football offense only finished with 255 yards — the lowest output among Big 12 teams in Week 1 — in its overtime home loss to Nicholls State.
The Jayhawks' 199 passing yards ranked last in the conference, as did their 56 rushing yards.
After a preseason full of coaches and players talking up the potential of KU's revamped offensive line, the idea was to put a much more polished product on the field to kick off year four of the David Beaty era at David Booth Kansas Memorial Stadium.
Center Alex Fontana misfiring on shotgun snaps was just one issue. Asked at his Tuesday press conference to assess the play of the new starting five up front, Beaty admitted it looked like Fontana, left tackle Hakeem Adeniji, left guard Andru Tovi, right guard Dwayne Wallace and right tackle Kevin Feder were playing their first game together, which of course was the case.
"There were some really good things at times, and then there were some things that you look at and you say, that's just a communication piece that you've just got to play together a little bit more," Beaty said. "The thing is, I know every one of those guys took it personally that they didn't play their best game. And the good news is, they're all going to make those changes, which is good. I know we've got a long way to go there, but I've got a lot of confidence in (offensive line coach A.J.) Ricker and his guys."
Senior quarterback Peyton Bender completed 19 of his 35 throws for KU (0-1), netting 187 yards, with two touchdowns and no interceptions, but was sacked six times — the highest number in his nine starts since joining the program.
Nicholls' defensive game plan, Bender said, pointing to the twists the Colonels often used up front, led to that large total.
"And just watching the film, we struggled to pick that up as a unit. So I think that kind of contributed to the sacks. And there was one where I probably could've gotten the ball out. I was probably just looking at the wrong guy. So I have to make sure I'm on the right read," Bender added. "I think, up front, it's just making sure that we're prepared for anything that the D-line tries to throw at us with stunts and twists and that sort of thing, and we can fix that up."
Three of KU's starters on the O-line transferred in during this past summer — Fontana from Houston, Wallace from Cal and Feder from Ohio State.
A 6-foot-4, 325-pound guard, Wallace spoke Tuesday about how the linemen are coming along.
"We all came in kind of late. And that's not an excuse. But we're for sure going to jell and get together. This game taught us a lot," Wallace said of the Week 1 setback. "There's a lot of teaching tape, a lot of things to learn from. I think, even though we lost, there's a lot of good that came out of it because we can go back and look at our mistakes. I feel like this is not it for our group. We're going to be able to improve and get much better."
While Beaty didn't share any plans to make changes to the starting lineup, the fourth-year coach did say he and Ricker have discussed making better use of the backup O-linemen. Against Nicholls, Clyde McCauley III, Antione Frazier and Chris Hughes subbed in.
"We've got some guys that can come in and play and we're going to use more offensive linemen. We didn't really roll in guys the other day as much as we'd like to," Beaty said. "We have enough depth to keep people fresh. Guys shouldn't have to play 80 plays a game. I think that'll help us because we actually have depth, which is quality depth."
Junior Api Mane is listed on KU's depth chart as the backup center. But Beaty doesn't foresee making a switch at the position before KU's road opener at Central Michigan (2 p.m. Saturday) because of Fontana's snapping.
"I don't see any reason that would change unless he gets beat out throughout the week," Beaty said. "But we still have a lot of confidence in him. We think we've identified the issue that he had and we think it's very fixable. Unfortunately, it showed up. We have to deal with it and we know that we've identified what we know to be the problem."
Asked whether a wet hand or putting on a glove led to the off-target snaps, Beaty replied: "I think that had a little bit to do with it, but there was some other things mechanically that we can fix. Pretty easy to fix."