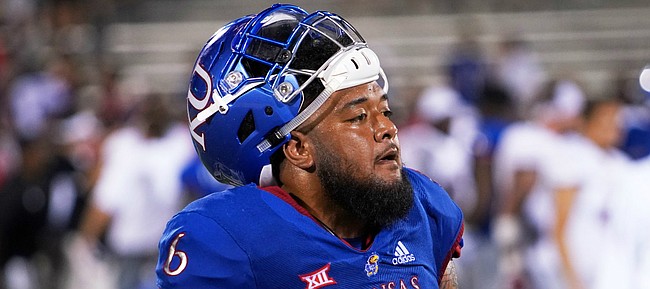 When Kansas defensive tackle Isi Holani got arrested in late July on suspicion of DUI, the football team issued a statement saying that details of the situation were being collected and an update would be provided once the process was completed.
On Saturday night, in the Jayhawks' season-opening loss to Nicholls State, the 6-foot-3, 325-pound redshirt senior didn't start, but Holani subbed in to play on the defense's first series.
During his weekly slot on the Big 12 coaches media teleconference Monday morning, KU head coach David Beaty addressed Holani's status when asked whether any form of punishment was doled out.
"One of the things with Isi's situation is that he is very close to coming to a resolution with regards to that particular incident," Beaty said. "We should know something here pretty soon. But the due process system is working. It's still in the hands of the due process system. As soon as we find out the result of that, which we feel like we have a pretty good idea of how that thing's going to turn out, if there is anything to be handed down, it will be handed down at that time."
Holani was credited with one solo tackle in the 26-23 overtime defeat.
Kendrick's OT appearance
KU's starting quarterback, senior Peyton Bender, handled the vast majority of the Jayhawks' snaps in a Week 1 home setback against Nicholls.
But with the game tied in overtime, Beaty turned to backup QB Miles Kendrick on 3rd and 6 at the Colonels' 21-yard line. A 5-10 dual threat quarterback, Kendrick hadn't subbed in since the second quarter.
On a play designed for the sophomore reserve to keep the ball and run up the middle, Nicholls' Sully Laiche tackled Kendrick for a 3-yard loss and KU had to settle for a 41-yard Gabriel Rui field goal and a brief 23-20 lead.
Beaty was asked Monday whether having Bender leave the field for such a crucial play was difficult for the starter.
"I don't think it was tough on him at all, man," Beaty replied. "He's the picture of professionalism when he's with us on the sidelines. I don't think it affected him one bit. As a matter of fact, he knew there were some certain situations in the game plan where it would call for the rotation of a quarterback. On that particular play, had we picked up the twist that they ran … we actually had a really nice call in there."
Laiche, lined up on the right side of the D-line, waited for his teammate next to him to engage with KU center Alex Fontana. Laiche then sidestepped behind the two for a clear path to Kendrick.
"We missed him. If we would've got him picked up, it would've been exactly what we were looking for," Beaty said of the play. "Unfortunately, we didn't execute it well and they did."
Kendrick played a full series in the second quarter, rushing for 4 yards, passing to Evan Fairs for an 8-yard gain and a 1st down and throwing to Dom Williams for 4 more yards. He also threw an incompletion on a deep ball down the left sideline to Steven Sims Jr.
Bender completed 19 of 35 passes for 187 yards, with two touchdowns and no interceptions, but was sacked six times.
Kendrick went 2 for 3 through the air for 12 yards and finished with two carries that netted 1 yard.
"But as far as (Bender), you saw no signs," Beaty said of the QB being impacted by subbing out. "And, of course, we didn't expect any. He's a team guy and we never, ever even thought about that. It never went through his mind. Obviously, he's a competitor and he wants to play. But he also understands the game plan and how you attack defenses."
Fontana snapping issues
On a handful of occasions during KU's Week 1 loss, Fontana, a graduate transfer from Houston who drew rave reviews from fellow Jayhawks throughout preseason camp, had issues placing his shotgun snaps on target.
Two of them were so far off the mark that they became loose balls in the backfield. KU recovered both of those blunders, which also went a combined 26 yards in the wrong direction.
On the first play of overtime, Fontana's snap went directly to running back Williams when it should've gone to Bender.
"He had not shown that coming into the game for sure," Beaty said of Fontana's struggles. "I think we kind of know what we need to do to fix it. I think it's pretty simple. I just don't know that we made the adjustment quick enough, and that was a key play right there in overtime, that 1st down. You've got to get yardage on that first drive, that first play in overtime. That's an area that you've got to be better, and we can't have a mistake like that happen."
Bender, too, was surprised by Fontana's off-target snaps.
"That's the first time I've really seen him do that," the QB said. "He's been very consistent throughout all of camp. I don't know what it was, but he's going to get it right."
Responding to loss
The mood around Anderson Family Football Complex was somber Saturday night following the loss to Nicholls.
Senior linebacker Keith Loneker Jr. said it will be up to KU's leaders to do all they can to help the Jayhawks bounce back.
"Obviously, guys weren't very pleased with the outcome. It really wasn't what we wanted. But it's Week 1 and you can't quit. Our guys understand that," Loneker said. "Practice needs to be amped up. We can't take anyone for granted."