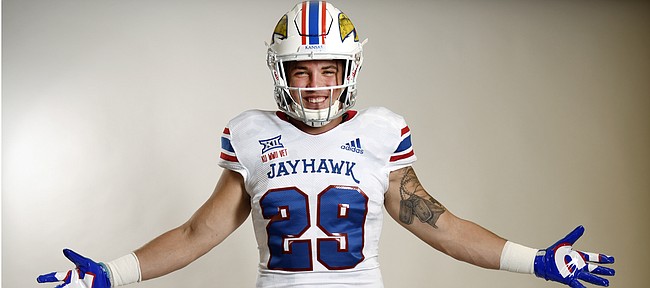 Kansas football players, coming off a home win against TCU, will don special alternate uniforms that honor World War II veterans the next time they take the field at David Booth Kansas Memorial Stadium.
The KU football program unveiled Monday the white jerseys, blue pants and white helmets featuring a 1941 Jayhawk that the team will wear for its Saturday home date with Iowa State, which will double as KU's annual "Salute to Service" game.
According to a release from KU Athletics, which never mentioned the uniforms are made by the department's athletic apparel partner, Adidas, the service-themed outfits pay homage to World War II veterans with several markings, including a patch on the front of the jersey that reads "KU WWII Vets", and another patch with a sketch of the KU World War II Memorial Campanile on the back, above the jersey number.
One of the most recognizable structures on the University of Kansas campus, the World War II Memorial Campanile, located south of KU's football stadium, was constructed in 1950 to honor the 277 students and faculty who died serving the U.S. in World War II. Their names are engraved in the Virginia Greenstone on the east and west walls of the Memorial Room at the base of the tower.
Like the uniforms worn by KU football teams in the 1940s, the alternate uniforms include a red and blue-striped pattern on each shoulder.
KU standouts from that era, College Football Hall of Famer Ray Evans and fellow 1947 All-American Otto Schnellbacher, both of whom put their playing careers on hold to join the U.S. Army Air Corps during the war, wore similar stripes.
Referencing combat pilots from WWII who painted "Jayhawk" on their planes, the alternate jersey font of the word Jayhawk mirrors that imagery. The jersey is a white and light gray pattern, also derivative of those planes.
What's more, the helmets KU players will wear this week feature a design that calls to mind old fighter planes. The helmets show a 1941 Jayhawk with the weathered look of painted sheet metal.
The blue pants have a white KU, in the same font used on the 1941 Jayhawk, on the right hip.
KU-Iowa State is scheduled for an 11 a.m. kickoff.