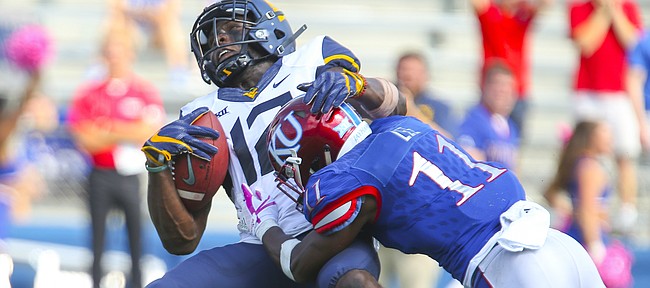 Injured for the Kansas football team's previous game, high-energy safety Mike Lee arrived at Jones AT & T Stadium, in Lubbock, Texas, this past Saturday even more eager to play than usual.
His position coach, Cassius Sendish, told Lee beforehand: "You've got to go out there and make them feel you. You've got to go out there and hit them hard."
And that's what Lee did. In the first two quarters at Texas Tech, Lee quickly racked up nine tackles, all of the solo variety, even popping the ball loose for a forced fumble on one of his stops.
But Lee's day ended abruptly with 32 seconds to go in the first half when the safety drew a targeting penalty and an automatic ejection for his hit on Antoine Wesley after the Tech receiver made a catch.
"That hurt," Lee said Tuesday while speaking with reporters at Anderson Family Football Complex, "to get kicked out of the game. I was doing so good I had them terrified — Texas Tech offense and their running backs."
When the officiating crew, led that day by referee Brandon Cruse, stopped the game to further examine the collision, Lee didn't realize his tackle caused the review.
"I thought it was like somebody did something bad or got a holding penalty or something," said Lee, a junior from New Orleans.
So the safety went from shocked to vexed upon the official ruling.
"(Wesley) lowered his head at me," Lee explained of his consternation. "He's 6-5. I'm 5-10. You want me to move out of his way? I couldn't do that."
Targeting, defined in the NCAA's rule book as a player taking "aim at an opponent for purposes of attacking with forcible contact that goes beyond making a legal tackle or a legal block or playing the ball," has proven to be a controversial subject in the realm of college football.
KU head coach David Beaty said earlier this week during his "Hawk Talk" radio show that it's often hard to tell "definitively" whether a hit should be considered targeting or not.
"When a guy lowers his level and your face is up," Beaty said, "those are the tough ones to call."
Implemented in the name of player safety, targeting rules, Lee said, can be challenging for defenders to adapt to. His teammate, redshirt senior linebacker Joe Dineen, agreed.
"I saw them throw the flag and I didn't know what they threw the flag for. I was a little bit confused. I'm not 100 percent sure what targeting really is, to be honest with you," Dineen said. "Some guys will get kicked out for something like Mike did, and some guys will not get kicked out and they'll have absolutely killed a guy. So I don't really know. They called what they called and it sucks, because Mike was having a great game up to that point and we missed him in the second half for sure. It's just something you've got to deal with, I guess, part of the game."
As Dineen referenced, Lee was playing so well at the time of his ejection that the ruling wrecked his mood.
"I really wanted to play the whole game," Lee said, "and I felt like if I would've played the whole game, the game wouldn't have went the way it went."
Lee ran back to the locker room with less than a minute to go in the second quarter.
"I was heated. I was salty. Like, I really didn't want to talk to no one," Lee said. "I took my shower, watched the game on an iPad and just stayed there. I wish I would've played the whole game, though."
Coming through with a season-high nine tackles in just one half, Lee figured the game was shaping up to be memorable in a good way.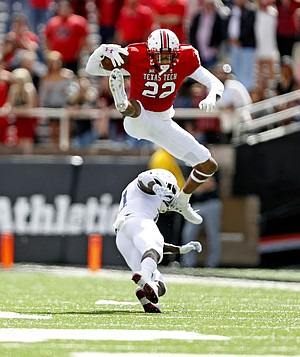 "What really got me started is when they started talking trash to me after I guess I got hurdled. A guy on the (Tech) sideline was saying I'm trash," Lee said. "So I just took all his energy and put it in my body. That just made me go out there and do what I do."
How many tackles would he have made if he played all four quarters?
"At least 25. At least," a smiling Lee said. "All 25 solo. At least. All of them were going to be hard-hitting, too. They were going to feel me."
Despite his in-game disbelief regarding the ejection, Lee said he hadn't watched the replay of his final hit "too much" other than the replay on the video board immediately after it happened.
He only took more time to rewatch it when his brother, Shawn Theard, sent him a video of the play — "He was also heated," Lee added.
Because the ejection came with more than a half of football left, Lee won't have to sit out any of this Saturday's game against TCU at David Booth Kansas Memorial Stadium.
"Yeah, it could've been worse," Lee said. "I'm ready to go out there and show out like I always do."
Still upset Tuesday while talking about what transpired three days earlier at Texas Tech, Lee plans on redirecting that emotion moving forward.
"That's my energy through the whole season," Lee declared. "I'm going out there on fire."