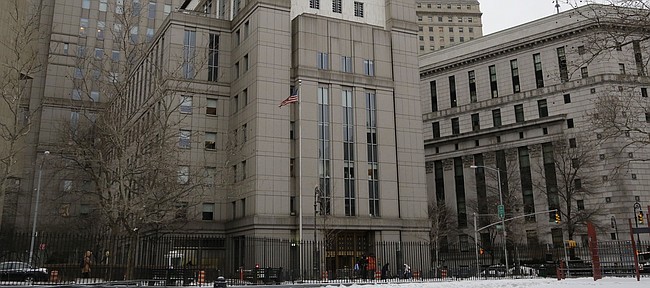 After a three-day break following closing arguments last Thursday, the federal trial on corruption in college basketball will be in the hands of the jury beginning today.
But the verdict, whenever it is read, is not expected to have any impact on the immediate future of the Kansas basketball program. Even though much testimony in the trial has included allegations about actions involving KU, no university coaches or officials are on trial.
Instead, the Jayhawks will enter into a new phase in the proceedings, with KU's athletic department, chancellor's office, head coach Bill Self and, eventually, the NCAA all playing a role in what's next in Lawrence.
To this point, Self and various KU administrators have been reserved in their comments about the details of the trial, saying through KU spokesman Joe Monaco that it is "not appropriate for the university to comment on these topics while legal proceedings are ongoing."
It remains to be seen whether that stance changes when the trial wraps.
KU was a central figure throughout much of the three-week trial aimed at determining whether former Adidas executives Jim Gatto and Merl Code, along with middleman Christian Dawkins, had defrauded a handful of college basketball programs by arranging payments for players and their families. However, any future action that impacts KU will come from the university, Self or the NCAA — not the federal government.
Because the guardian of current KU forward Silvio De Sousa was alleged to have received $2,500 for online classes and, according to testimony, engaged in discussions about receiving a $20,000 payment from Adidas consultant T.J. Gassnola, a star witness for the prosecution, De Sousa's status for the upcoming season has drawn a lot of attention.
Self, at KU's media day on Oct. 10, said he and his staff were taking the approach that De Sousa's situation would have a positive resolution. Self added, "but that was also based on the information that we had. Who knows what could potentially happen in the next whatever period of time."
Those comments came when the trial was six days old and before most of the fireworks from Gassnola's testimony had surfaced.
It's worth noting that former KU forward Billy Preston, whose name also surfaced during the trial as a result of his mother, Nicole Player, allegedly having received nearly $90,000 from Gassnola for Preston to sign with Kansas, played in all three of KU's exhibition games last season before being held out of every regular season game while he was with the team as the university sought a clearer financial picture on the car Preston was driving during a one-car noninjury accident a day after KU's season began.
"Our decision to play will be based on the facts that come out in correspondence with the NCAA," Self said at KU media day. "So it's not going to be, 'What does Kansas do?' It's going to be what we think is the right approach to obviously try to get to the facts to determine what the situation really is."
Self and the rest of the Big 12 head coaches will be in Kansas City, Mo., on Wednesday for Big 12 media day, and the Jayhawks will open exhibition play in a home game against Emporia State on Thursday.