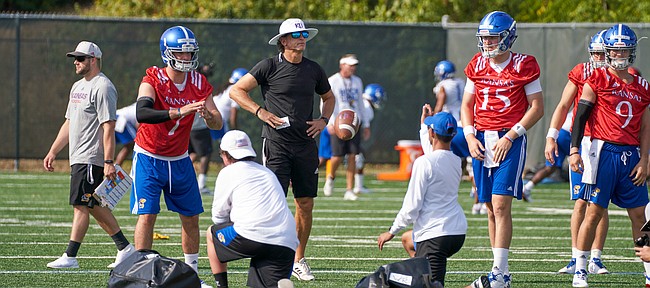 After a complete offseason of working directly with Doug Meacham, plus six weeks worth of regular season practices, meetings and scheming with the Kansas football team's offensive coordinator and quarterbacks coach, Peyton Bender and his fellow QBs showed up at Anderson Family Football Complex this past week to learn Meacham had been fired.
KU's head coach, David Beaty, informed the quarterbacks of his drastic move before a bye week practice, Bender said Tuesday, adding Beaty told them he would be taking over as their position coach and coordinator, too, before addressing the situation with the rest of the team after practice.
"I think it's obviously not an ideal situation," Bender admitted, when asked how that type of change impacts the quarterbacks. "You don't want to be firing your OC midseason. But the best thing we can do as quarterbacks is try and eliminate distractions, try and put it past us. And we appreciate everything Coach Meacham did. He was a fun coach to be around, always energetic, he brought energy every day. But, you know, it wasn't our decision. It's out of our control. We just have to prepare with Coach Beaty and listen to what he's saying."
Bender, who will return to his spot as the Jayhawks' starter at Tech, thinks the shift in responsibilities for Beaty won't put too much on KU's QBs, because the coach isn't installing "a whole new" offense.
"We're keeping a lot of the same concepts, a lot of the same stuff we've been doing," Bender said. "Just running it and communicating it a little bit differently."
Presumably in order to not reveal much about what a Beaty-led offense will look like ahead of the Jayhawks' trip to Texas Tech, both the head coach and Bender, the only QB made available for interviews, kept answers vague when asked to explain what is different now that Meacham is gone.
So what does Beaty hope to accomplish offensively that the Jayhawks (2-4 overall, 0-3 Big 12) haven't up to this point, leading to Meacham's firing?
"Probably the same things that you would think," Beaty replied. "More production. The bottom line is more production. But then how do you produce? Being able to string first downs together, managing your time efficiently, being able to allow your guys to be in positions where they can go to school on the information a little bit better than they have."
In Big 12 play KU currently ranks ninth in scoring (19.0 points per game) and passing (200.7 yards per game) and 10th in rushing (107.7 yards per game).
"Making sure that we're more streamlined with our game plan," Beaty continued. "Staying kind of in the slot of what we actually are doing, right? Not straying away from that and creating maybe new things because the system can handle it. Just stay in the system and believe in that system. I think just the last week I can tell our quarterbacks feel so comfortable right now knowing that they know the answers to what teams are doing to them. And then, really, understanding defenses better and utilizing the information we're gaining on who they are more, to help us."
Again without getting too specific, Beaty said reading and reacting to defenses is "how the game is played" offensively.
"The game is not played on 'Hey, this dude's just better than him. Just go do that.' It's very difficult to do that nowadays. If that was the case, there wouldn't be high-paid guys out there that are really, really smart, right? These dudes are really smart. They know how to move the pieces around, they know how to hide the fitters. You must know certain things and certain pieces of information. If you don't, you're behind the eight ball," Beaty said. "You have got to be able to take advantage of weaknesses that are being presented on a down-to-down basis by what defense guys show up in. And that will lead to more production. It will lead to more production faster."
Headset tirade
During Meacham's final game on KU's staff, at West Virginia, the ESPN2 broadcast showed Beaty borrowing the headset of receivers coach Justin Johnson and screaming into the microphone.
Beaty was asked Tuesday during his weekly press conference whether Meacham was on the receiving end of that tongue-lashing, and if that had anything to do with the assistant's firing.
"We're all connected on the headphone. I can't believe that might be the only time you've ever caught that, because it's usually intense," Beaty began in response. "You could make money off watching sidelines, I bet you, for sure. That may be something you want to look into."
The fourth-year KU head coach went on to say the display resulted from KU taking a timeout.
"I'm not into burning timeouts for no reason. We've got to do a better job of getting the play in, being more efficient with our play-calling," Beaty said. "That helps our quarterbacks by being able to slow the game down, and go to school on their information, as opposed to the ball being snapped just as we get the play called, right? We can't burn fruitless timeouts. It just can't happen. I've addressed that on several occasions, but on that particular one, I guess, that you're talking about, my headset went out — in certain areas it blinks out on you, so I grabbed Justin Johnson's and I wanted to make sure everybody was clear on what I expected from that point going forward. I think they got the message."
And did he hear any backtalk?
"I did not. Of course, I took the headset right off, and my other one wasn't working for a few minutes," the coach said with a chuckle.
Along the lines of cleaning up the play-calling process, though, Bender said there were cases in the first six games when KU wasn't able to check into different plays at the line of scrimmage.
"We had an issue a little bit with communication from the box to the field to the quarterback, where there were a few instances where the play call was getting in late and the play clock was running down and by the time you signal and communicate it the play clock's at three seconds, so you didn't really have much ability (to check into a different play)," Bender said. "You kind of just had to snap it so you didn't have to take the penalty, and run with it. In theory, we'd like to get the play call in early and be able to see what the defense is doing to get a better play if we don't like the look."
The senior QB said those issues also altered the offense's ability to go with certain play calls that are game-planned each week to combat specific defensive formations.
"And then when you see that look you're like, 'Oh, OK. This is what we wanted. Check to this play,'" he explained.
Bender once again No. 1 QB
During his weekly "Hawk Talk" radio show on Monday night, Beaty announced Bender would start for KU on Saturday at Texas Tech (4-2, 2-1).
Unfortunately for those listening, that revelation came during a stretch of technical difficulty, during which the audio feed was lost.
Bender, who started KU's first four games before being replaced by Carter Stanley for two weeks, learned on Monday that the job was his once again.
"(Beaty) came up to me and told me I was going to be the guy," Bender said, "and continue to prepare and practice like I have all year and get ready to go."
In five games (four starts), Bender has completed 60.5 percent of his 114 passes for 681 yards and six touchdowns, with one interception.