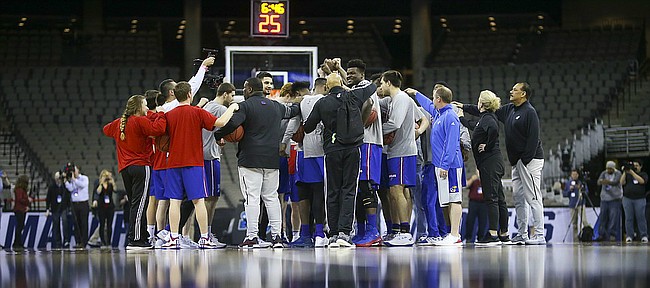 One of the big reasons the 2017-18 Kansas basketball team ended its season at the Final Four in San Antonio in March was the chemistry and cohesion of the seven or eight core members of the team.
And with half of that roster returning for the fast-approaching 2018-19 season, one of the loudest questions surrounding the new-look Jayhawks has to do with leadership.
But while players, young and old, are in place to step into important leadership roles, putting together the same kind of chemistry that the past couple of teams enjoyed could be the more pressing question at the moment.
KU coach Bill Self at Wednesday's media day at Allen Fieldhouse was asked where this group sat in that department, a couple of months and handful of practices into the season.
"That's a good question," Self said. "That's kind of like, 'Do you have any leaders?' And the answer for any team would be yes, because if you're not a good leader, you're probably a bad leader. So everybody's got leaders. And I would say the same thing with our chemistry right now.
"We've had some times where we look pretty fluid together and we've had some times where we don't look very good together. But I will say this: We haven't had many bad days, but our bad days can become awful days just because maybe the chemistry and leadership isn't quite there yet."
Both leadership and chemistry tend to be elements of talented teams that develop over the course of a season. So it would be unfair to expect this team to be anywhere close to where the 2017-18 squad ended its season.
Self knows that. And he's looking forward to tough times in practice, early season games when they haven't quite figured things out and all of the other adversity that's still ahead.
"You notice leaders when times are tough and things aren't going well, more so than when things are clicking," Self explained Wednesday. "Because anybody can play well when it's clicking."
Foul Fest
It's no secret that KU is loaded in the front court, with five big, bruising bodies ready to do battle down low at all times.
But the Jayhawks might need a little adjustment period before they're ready to let the big men loose.
"If we had officials referee our practices, there would be, in a 20-minute scrimmage situation, Mitch (Lightfoot) would have 22 fouls and Dok (Azubuike) would have 18 and Dedric (Lawson) would have 15 and Silvio (De Sousa) would be the same way," Self said. "I haven't really talked much about backing off in that area yet, but that's got to be something we address."
The reason Self believes the Jayhawks will need to start simulating game-type situations — five fouls and you're out — over all-out effort is so the KU bigs will be ready to execute when things get going for real.
"I kind of always thought that mindset of being aggressive and attacking all the time won over time," Self said. "But, right now, (with) our aggressiveness inside, to be physical would be a detriment because we would foul too much. People would be in the bonus way too early, so we've got to tighten that up."
Early lessons
With so many fresh faces on this KU roster — some new to college and some new to Kansas — Self is bracing for the natural learning curve of any new team to take its toll with this group.
"Whether it be Devon (Dotson) or Charlie (Moore), or whoever, Marcus (Garrett) or Quentin (Grimes), yeah, those guys are going to have to learn on the fly," Self said. "And (that's not) bad. The only thing that's potentially negative about that is our schedule's so hard early."
These Jayhawks will have four or five games against Top 25-type teams before Christmas and Self believes that, win or lose, the lessons learned in those games and the seven or eight other nonconference clashes ultimately will be good for this team's overall growth.
"The team that we put on the court in early November won't be the team we put on the court in February," Self explained. "I'm confident of that. But I do think the schedule's so hard and, obviously, those games add up just like the rest of them do as far as ranking and seeding. But we'll be a much better team by league play."
---
• More news from KU Basketball Media Day 2018
Self, Jayhawks still sorting out 2018-19 rotation
Tom Keegan: Silvio De Sousa says, 'I know I am going to play this year'
Self declines to comment on testimony of former Adidas consultant who says he arranged cash payments
---